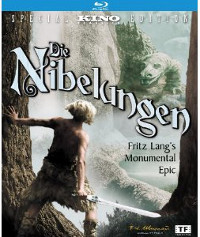 Die Nibelungen (Kino) is the original fantasy epic, a magnificent silent spectacle based on the same German myth that inspired Wagner's "Ring" cycle and the wellspring that nurtured "Excalibur," "Lord of the Rings," and "Game of Thrones" (not mention "Metropolis").
This blood and thunder myth of warriors and dragons and brotherhood and betrayal, is awesome in its scope, both visual and dramatic. Warrior prince Siegfried is both innocent child-man of the wild and the blonde Aryan ideal of German myth, a mortal god in his own right destroyed by the pettiness of human vanity and weakness of his own sworn blood brother. The betrayal of the first part of this mighty diptych is answered in the title of part two: "Kriemhild's Revenge." His widow vows vengeance ("Blood cries for blood!") and it is as enormous and devastating as anything Shakespeare created, practically destroying two kingdoms in a literal conflagration.
On the one hand, Lang presents is as a tragedy, of vengeance burning down everything and everyone it touches, but Kriemhild can also be seen as the hand of the gods burning out the corruption of a compromised kingdom that defends a killer with the same sense of honor that justified the betrayal of a blood brother. "You do not understand the German soul," explains one knight to the King Attila of the Huns, but as embodied by the weak-willed King Gunther, their is little to understand beyond perhaps regret for past sins and a futile gesture to regain lost honor.
Beyond that, "Die Nibelungen" is simply magnificent to behold, a mythic landscape of ancient forests, fairy tale waterfalls, lakes of fire, and caves and crevices hewn out of earth and rock, built entirely in the studios of Ufa. There's a half-hearted inclusion of Christianity with a massive cathedral and a few carefully-placed crucifixes, but if there is any religion to this film, it is of the Earth and nature and the old gods, and every set and manufactured landscape serves the grandeur of this primeval, pre-religion world.