After a hiatus so long I thought the series over, Kent Jones returns with part six of his and B. Kite's back-and-forths on Bresson, a quite lovely consideration of how one of his detractor's recurring complaints, the way the director's use and control of "models" damages the films' senses of realism and community, is a fair cop but also inextricably linked to the marvel that is "the bracing nature of Bresson's cinema, which posits existence as inherently wondrous and revelatory." By happily timed coincidence David Bordwell has some informative thoughts to share on Bresson as well, in a video about the use of constructive editing—i.e., editing with more on its mind than seamlessly propelling the narrative—in Pickpocket.
Two more fine pushbacks to the latest round of "Death of Cinema" laments: Jim Emerson fears nostalgia for previous modes of consumption is blinding some to the opportunities (and movies) all around them; while in a brief, thought-provoking rant Peter Lenihan thinks we've been seduced into false dichotomies about what is and isn't cinema because of…well, Godard, in his formulation, but he admits it's bigger than that.
Since Halloween candy only tastes sweeter in the days after (till that horrible tipping point when it becomes inedible), some bits left over from last week's good haul. Carson Lund takes stock of the fractured visuals and unnerving soundscape of Skolimowski's underrated The Shout. Art of the Title interviews John Wash about his credit sequence for Halloween III, and his other efforts for John Carpenter in the early days of computer graphics. And while I've only sampled a little of the Val Lewton Blogathon co-hosted by the Speakeasy and Classic Movie Man blogs, Jo Gabriel's marvelous, richly illustrated two part analysis of Curse of the Cat People is a clear standout (Part II here).
"Have your never wanted to look beyond the clouds and the stars, or to know what causes the trees to bud? And what changes the darkness into light?" Meanwhile Will McKinley attended a digital screening of Whale's two Frankenstein pictures, and feels it was a little unkind to present these pictures without just a word of friendly warning that their presentation, beamed from satellite rather than screened at the theater on hard drive, would suck beyond the telling.
The air of disdain that permeates Michael Peck's set visit to Winter in the Blood—I mean, he can't even be bothered to get star Chaske Spencer's name right—drags the piece down a bit. But there's a nice appreciation of the James Welch novel being adapted, a sharp portrait of directors Alex and Andrew Smith, occasionally so "lost in contemplation, they stray too far and some assistant is sent to find them," and the best description of being on the receiving end of a David Morse staredown you're ever likely to read.
"It's the most unrealistic thing you can do to shoot a close-up, and it's the most unrealistic place you can be as a performer. And yet actors grouse about having to do visual effect shots, but they love doing close-ups." Despite his much-ballyhooed return to live-action (and comparatively low budgets) with Flight, Robert Zemeckis maintains a fervent drumbeat for the digital toolbox, here in an interview with one of his more perceptive admirers, The Times's Dave Kehr.
After rewatching Renoir's Picnic on the Grass, and being struck as never before by a declaration of anti-rational pantheism that jarred with the scenes from Hurricane Sandy outside his window, Richard Brody has some thoughts on the freedom artists deserve to follow their muses, and how little the rest of us should expect "practical advise in the teeth of trouble" to result from their flights.
Portraits of the Artist as a Young Man and an Older, Perfectionist Recluse: Time's Erica Fahr Campbell presents Kubrick's first short, Day of the Fight, and the story of how the 20-year-old broke into film adapting one of his own photo essays. While the BFI's Samuel Wigley interviews Jan Harlan about producing his brother-in-law's film of The Shining.
"He has integrity coming out of every pore. I remember asking at the very end, 'Why do you work like that?' And he said—it was very sweet—'Well, I don't think I'm a good enough actor to be able to not do it this way.'" That's Emily Watson quoting about the only person who doesn't think Daniel Day-Lewis is good enough, Daniel Day-Lewis, in Jessica Winter's interesting profile of the actor's meticulous method. Link via The Film Doctor.
While so many of late have praised Raya Martin as the Philippines's greatest filmmaker, his own choice for the best Filipino movie ever made is Kidlat Tahimik's underground merging of the personal and the political, Why is Yellow the Middle of the Rainbow? (Which the pun lover in me wishes had kept its original title, I Am Furious Yellow.)
A pair of .pdfs of note were spotted by Adam Cook. Adrian Martin's Last Day Every Day, adapted from a 2008 talk, is thirty dense, highly philosophical pages (if you couldn't tell from the subtitle "Figural Thinking from Auerbach and Kracauer to Agamben and Brenez"), arguing for a new appreciation of the fluidity of "the figure" in cinema, as illustrated (too briefly) by The Blue Angel and Tarnished Angels. You can order a hard copy for $9, but the download is free. And La Furia Umana's Wellman Dossier from their current issue—several excellent appreciations from the likes of J. Hoberman, Daniel Kasman and editor Gina Telaroli—is now available to download as well (for a free registration), a handy bundling of a fine resource.
"Comedy is easier and as an actress I am just more used to that and I can do it better. Drama is hard–especially when you are directing in a corset." Your terrific Julie Delpy interview for the week comes courtesy of The Talks.
"He was so dear, honest to God. He would play the piano. Someplace on the set we had a piano, and he'd play it. The crew just adored Art. It was only me they loathed." Interviewed by The A. V. Club's Will Harris, Lily Tomlin comes off perfectly frank about the egos, macho arrogance, and compromises you have to maneuver on film sets, but also so supportive and professional she's got nothing but good things to say about David O. Russell. So just about perfect, in other words.
Adrian Curry presents a lovely collection of posters by the Russian masters the Stenberg brothers, from a rare auction held by Christies.
Video: October 24th at the Walter Reade Theater was a night of remembrance for Andrew Sarris, with tributes from 17 speakers including Kent Jones, Carrie Rickey, David Thomson, Jonathan Demme, and letters read on behalf of Martin Scorsese and Meryl Streep. Indiewire's Matt Singer provides the video, the speakers appropriately interspersed with clips screened from some of Sarris's favorite films.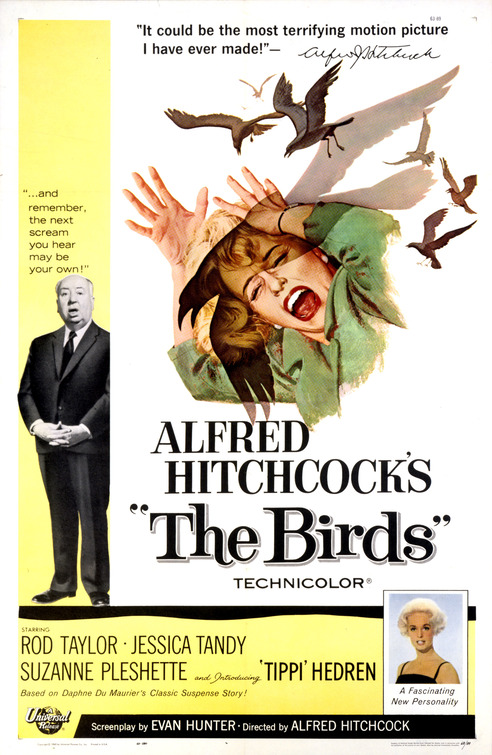 Seattle Screens
Northwest Film Forum launches two weeks of classic films from Universal Pictures, all screened from 35mm prints, starting Friday, November 2, with a newly-struck print of Alfred Hitchcock's The Birds, introduced by film critic (and friend of Parallax View) Tom Keogh. There will also be new prints of Jaws (Friday, November 9), Francis the Talking Mule (Saturday, November 10), The Sting (Saturday, November 10), and Pillow Talk (Sunday, November 11).
These screenings will also get special introductions by local critics: Frankenstein (Warren Etheredge, Saturday, November 3), Dracula (Robert Horton, Sunday, November 4), Winchester 73 (Richard Jameson, Wednesday, November 7), and Jaws (Alexandra Nakelski, Friday, November 9). Complete schedule at NWFF website.
The First Annual Seattle Turkish Film Festival opens Friday night with a screening of My Grandfather's People at Pacific Place (with director Cagan Irmak in attendance), and moves to SIFF Film Center for screenings on Saturday and Sunday (including a return visit of Nuri Bilge Ceylan's Once Upon a Time in Anatolia). Schedule here.
A Liar's Autobiography: The Untrue Story of Monty Python's Graham Chapman reimagines the Python member's life as an animated documentary in 3D. SIFF Cinema offers revival screenings of Monty Python and the Holy Grail and Monty Python's Life of Brian as companion pieces. All at The Uptown this weekend.
Seattle Art Museum's Film Noir Cycle continues with a screening of Fritz Lang's masterpiece The Big Heat (1953) on Thursday, November 1. On 35mm, of course, in living black and white. Passes are sold out but there are always some single tickets available at the door.
Late night oddity of the week is Miami Connection, an eighties martial arts rock and roll feature written and directed by and starring kung-fu master/inspirational speaker Y.K. Kim, resurrected from the direct-to-video market to amaze and astound new audiences. Grand Illusion through the next two weekends.
Also opening this weekend: Robert Zemeckis's Flight with Denzel Washington (multiple theaters), The RZA's The Man with the Iron Fists (multiple theaters), 3, 2, 1… Frankie Go Boom (Grand Illusion, reviewed by Kathleen Murphy), Ross McElwee's first person documentary Photographic Memory (NWFF), and Ursula Meier's drama Sister (winner of the Silver Bear at Berlin, at The Uptown).
Visit the film review pages at The Seattle Times, Seattle Weekly, and The Stranger for more releases.
View complete screening schedules through IMDb, MSN, Yahoo, or Fandango, pick the interface of your choice.
The weekly links page is compiled and curated by Bruce Reid, with obituaries and Seattle Screens curated by Sean Axmaker, and other contributions from friends of Parallax View.