In his counterpart article to David Denby's lamenting the death of movies (posted last week), David Thomson rejoins no, not at all. They're only dying, and have been for decades now.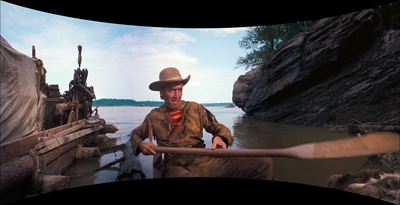 "And in the way Americans have of acting out their dreams, it came to be." David Bordwell looks back at Cinerama, with an interesting discussion of the limitations three distorting screens forced upon filmmakers and how John Ford managed to effortlessly transcend them.
"I admire your courage, miss, er?" "Trench. Sylvia Trench. I admire your luck, Mr…?" "Bond. James Bond." With the 007 movies now 50 years old, Vanity Fair's David Kamp recounts the long route Ian Fleming's novels took to get to that iconic introduction.
"It's almost as if he has discovered a new part of himself: every good character has an evil double lurking out there, and vice-versa. After years of being corseted as Warner Brothers good lounge lizard…and unthreatening refugee roles, he can finally kick up his heels." Mark Rappaport, finding more examples of evil twins and duplicitous doppelgangers in his career than you'd think, praises the postwar wildness of Paul Henreid.
An intriguing subject for further research is provided by Pussy Goes Grrr's Andreas, who makes brief but compelling note of stylistic similarities between Ozu and Edward Hopper. Link via Girish Shambu.
Reviewing Brian Kellow's Kael autobiography and the Library of America's collection of her works, Jana Prikyl sticks up for her favorite film critic, and reclaims the feminist origins of Kael's famous tussles with
"I'll say it one more time, the fundamental question is: what purpose does cinema serve? That's what there is after many years where I see that I didn't understand anything, where I laughed at what I was doing." Ted Fendt translates a riveting 1971 interview with Jean Eustache, conducted by Philippe Haudiquet for La Revue du Cinéma, wherein the director seems committed to rooting out every possible method of making a film and burning it to ash. Of course, it was precisely this crisis that led to The Mother and the Whore.
"From the age of 20-30 I made three films. From 30-40 I made one film. From 40-50 I made zero films…. I'm 51. It's not looking good." A possible modern analogue for Eustache emerges in Xan Brooks's interview with the anxiously defeatist Leos Carax.
"The point is, it's dangerous just to look at a photograph and assume we know what we're looking at. Chances are we have no idea." Compared to all that, Errol Morris's interview with Lawrence Weschler, which roams from Crimean war photographs to Abraham Zapruder to the fictional origins of forensic science, is a glittering, philosophical delight. Via Longform.
In celebration of Keystone's centenary, Shadows on the Screen rounds up every mention of them from the 1912 editions of Moving Picture World—dry formal announcements almost surreally removed from the studios anarchic output. Passed along by Pretty Clever Films.
Somewhat disappointingly, Roland-François Lack's roundup of cameos by French New Wave directors doesn't wind down his usual side alleys, merely cataloging a couple dozen instances of such cross-pollination. Then again, Godard handwalking in Arab getup should be enough of a revelation for any post.
"Now this is the shot I want, with everybody and the fish in it." The Retronaut's behind-the-scenes photos from Jaws reminds you that Bruce really did look ridiculous till Spielberg's camera made him shiver-inducing.
Audio: Margaret Talbot's excerpt from her biography of her father Lyle is behind the New Yorker's subscription wall, but they've provided (after a few words from TV critic Emily Nussbaum on Treme) an interview she gave about her dad's Hollywood career conducted by Richard Brody and Michael Agger.
Obituary
Herbert Lom is best known to the general public as Chief Inspector Dreyfus, the long-suffering boss of Inspector Clouseau in the Pink Panther films, but his career was long and rich. He was memorable in Night and the City as the Greek mob boss in London, a brutal gangster in The Ladykillers, Captain Nemo in the Ray Harryhausen The Mysterious Island, and Christopher Walken's therapist in David Cronenberg's The Dead Zone, among many others in a career that spanned over five decades. He died at the age of 95. Ronald Bergen at The Guardian.
French director Marcel Hanoun, whose career began in 1959 with Une Simple Histoire but was overshadowed by the other filmmakers of the Nouvelle Vague, died of a heart attack at age 83. David Hudson collects the remembrances at Fandor Daily.
Seattle Screens
The 15 edition of Local Sightings Film Festival, the annual celebration of local and regional cinema, is back at Northwest Film Forum for a week of features, shorts, panels and special presentations. More on the festival here, and the complete schedule is here.
The annual Festival of New Spanish Cinema opens Thursday, September 27 with No Rest For the Wicked (it also screens on Saturday) and plays through the weekend at The Uptown. Complete schedule here.
Headshot played at SIFF earlier this year. It now gets its theatrical premiere at Grand Illusion the same day that it opens in New York: the theater's second American theatrical debut this year!
E.T. The Extra-Terrestrial screen on Wednesday, October 3 as a special Fathom digital event (presented by Turner Classic Movies) at select theaters. The 30th Anniversary screening anticipates the upcoming Blu-ray release. You can search for participating theaters at the Fathom page here.
And the very next day, new 4k digital restoration of Lawrence of Arabia will play at multiple theaters in and around Seattle (including IMAX screens as Thornton Place and AMC Southcenter) on Thursday, October 4 as a one-day-only, digitally-projected Fathom event.
Visit the film review pages at The Seattle Times, Seattle Weekly, and The Stranger for more releases and see complete Seattle screening schedules through IMDb, MSN, Yahoo, or Fandango, pick the interface of your choice.
The weekly links page is compiled and curated by Bruce Reid, with Seattle Screens and obituaries curated by Sean Axmaker, with contributions from friends of Parallax View.