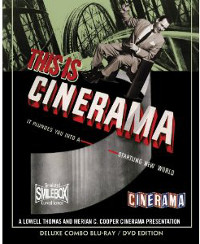 This Is Cinerama (Flicker Alley) is neither documentary nor drama. It's a pageant, a showcase, an immersive experience that launched Cinerama with roar. Shot on three separate cameras and projected via three synchronized projectors, it was the first high definition theater format (before IMAX), even if the format didn't lend itself to conventional moviemaking.
This Is Cinerama opens on a squarish black-and-white image with Lowell Thomas taking audiences from cave paintings to modern movies (presented windowboxed with curtains on the side, like a theater screen), and then the curtains part as Thomas announces "Ladies and gentleman, this is Cinerama!" and the screen goes wide for a front-car seat on the rollercoaster ride at Rockaways' Playland in Atlantic City. It's the most famous sequence in the film and a brilliant introduction to the visceral possibilities of the new format. Home video can't capture the immersive experience of wraparound screen, but the Smilebox format (which flairs the image wide at the edges) simulates the visual quality of the wraparound big screen image.
The rest is in many ways a glorified travelogue – emphasis on the glorious. The film takes viewers from the legendary La Scala Theatre in Milan, Italy, to the canals of Venice to a bullfight in Spain to the Cypress Gardens of Florida, ending on a majestic flyover survey of the United States from sea to shining sea. You can see the seams between the three images because the technology never conquered the perspective issues, but it is as seamless a presentation as ever shown in theaters.
Continue reading at Videodrone
For more background on the film and its production history, see my essay at Turner Classic Movies