The new Senses of Cinema features a series of articles on Chris Marker, including Daniel Fairfax on the director's unique sense of montage, Nick Shimmin on his politics, and, most wide-ranging and cinematically astute of the bunch, Adrian Danks on Marker's love of cats. Elsewhere in the issue, Zain Jamshaid looks back at Jeanne Dielman and Ju tu il elle and finds a devotion to theory Akerman would grow away from; Lesley Brill offers a religiously-inflected reading of Election; and Rutger H. Cornets de Groot sees an alchemical urge toward transformation informing all of Kubrick's work.
Jon Jost has a follow-up post on the Mark Rappaport-Ray Carney contretemps, featuring a Q-and-A with Rappaport nailing down the timeline and other details. A further installment is promised (threatened, really) if Carney doesn't come out of the woodwork soon; no one's really holding their breath for that.
David Denby puts his inability to string together three sentences without sighing in Olympian disdain to good use for The New Republic, laying the hollow corpse of modern movie making at the feet of a Hollywood indifferent to any considerations beyond profits.
The snarky, superior laughter that marred a recent screening of From Russia with Love led Matt Zoller Seitz to consider the inability of audiences to reach out to movies from the past, and remember a despairing admonition from one of his film professors. The piece generated so much comment Seitz expanded and clarified some of his thoughts in a follow-up post.
"From Finis Terrae (1929) on, Epstein returned again and again to the subjects of lighthouses, storms, boats setting out, boats in peril, islanders waiting for boats to return. It's a matter of life and death, but it's also a matter of rhythm and composition, of drama that builds like weather or music." Imogen Smith on two of Jean Epstein's portraits of the sea.
"Thurber himself seemed a bit puzzled at the conclusion of the prevue. 'Anybody catch the name of this picture?' he asked." With the upcoming Secret Life of Walter Mitty remake sure to get written up in some corners as dishonoring its classic predecessor, Maria Bustillos reminds you how very much Thurber fans, and Thurber himself, hated Danny Kaye's version.
"We do not know how big the crowd is, and what opposition it is, until we get out of step with it." Ben Sachs is out of step with most views of Vidor's The Crowd; Sachs has it as sneeringly misanthropic, the Randian leanings that would culminate in The Fountainhead already in situ. Passed along by Adam Cook.
Also via Cook:  Christopher Moloney's FILMography tumblr, in which movie stills are held up over their shooting locations, is charmingly low-tech yet inspired in its layered now-and-then creations. As a bonus, Moloney's the first I've seen to spot a commonality between The Dark Knight Rises and The 10th Victim.
A father who skidded between absent and demanding; half-siblings introduced out of nowhere; a disturbing propensity for accidents (involving lawn mowers, clothes wringers, automobiles) that maimed and disfigured. Ellen Copperfield recounts the childhood that formed Anjelica Huston.
Reviewing Kevin Hatch's Looking for Bruce Conner for The Nation, Barry Schwabsky recounts the myriad artistic careers (painter, sculptor, filmmaker) and multiple feints at vanishing acts (one gallery showing was cancelled when he prankishly decided to accredit the work to his friend Dennis Hopper) that Conner pursued.
"The moral is: don't write a comedy that makes an audience laugh." At Letters of Note, Groucho apologizes to frequent correspondent Woody Allen for not having written in too long.
"What do you see of your father in you?" "I'm more like my mother. She is the toughest woman. She's 88." Denzel Washington's interview with GQ's Michael Hainey is a master class in making your opinions clear even as you never let your façade crack. And given the magazine and subject, the accompanying photo shoot is about draping that façade impeccably.
At Indiewire, two auteurs are interviewed about how their most recent films return to obsessions of their youth: Eric Kohn sits down with Olivier Assayas about the early-70s political milieu of Something in the Air; and Rob Zombie tells Nigel M. Smith how he finally got around to making his witchcraft movie, Lords of Salem.
Poem: "I am not too good/For Los Angeles, knowing angels never/Forsook a degenerate." Maryam Monalisa Gharavi's brief but vivid "My Years of Militant Surrealism" takes the form of Luis Buñuel's resignation letter to Paramount. Link via David Hudson.
Adrian Curry recreates the 1963 New York Film Festival, rounding up posters for 19 of the 21 films offered in that inaugural program. As he says, it's an intriguing mixture of unassailable classics and now-forgotten
"I hope I can live up to your high standards." The Retronaut presents a photo gallery of the auditions for On Her Majesty's Secret Service; Lazenby and four other ruggedly handsome Englishmen strapping on their PPKs, pinning Bond girls to the wall, and cocking eyebrows toward the camera.
"For the first time in 5,000 years the Sphinx opened her mouth, and said, 'don't expect too much. Don't expect too much from a teacher.'" In 1973 Nicolas Ray holed up at the Chateau Marmont, ignoring illnesses and addictions to edit his final feature We Can't Go Home Again. Ray's assistant Andy Romanoff presents a series of photographs he'd thought lost, images of a sad, withered, but stubbornly abiding man in a lonely place.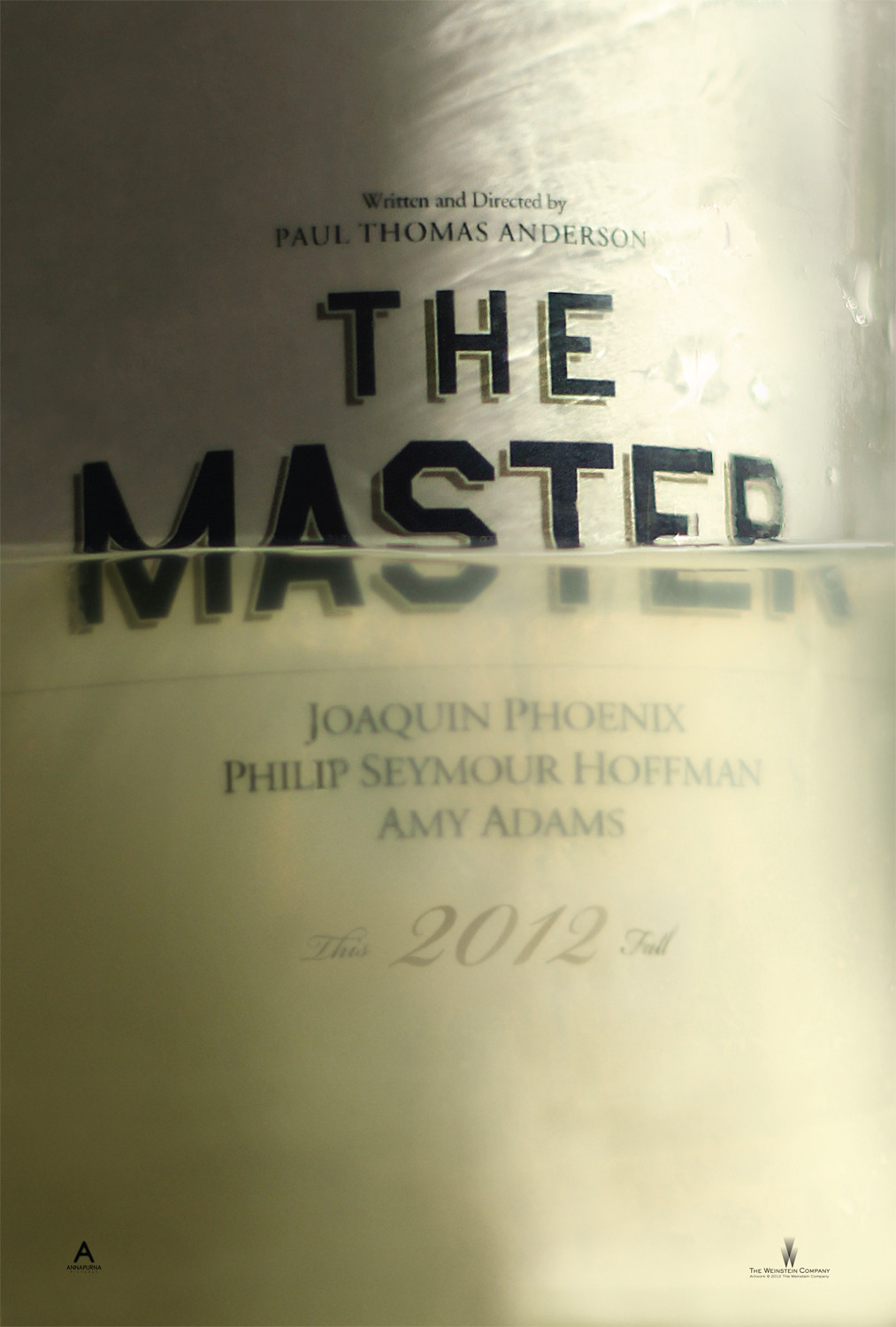 Seattle Screens
By Sean Axmaker
Paul Thomas Anderson's The Master is the first Hollywood feature shot in 70mm in years. It opens in Seattle this weekend (a weeks after its New York and L.A. debut) in multiple theaters, but only Cinerama is showing the film on an honest-to-God 70mm film print. Making Seattle one of six cities on the country with a 70mm showing.
Alfred Hitchcock's Vertigo famously was stamped with the new "Greatest Movie Ever Made" imprint in the new Sight and Sound critics poll, but in the director's poll, the top film was Ozu Yasujiro's Tokyo Story (number three on critic's poll). Never seen it? Grand Illusion is screening a 35mm print of the film this week.
Seattle Design Festival plays at SIFF Film Center this weekend.
Visit the film review pages at The Seattle Times, Seattle Weekly, and The Stranger for more releases and see complete Seattle screening schedules through IMDb, MSN, Yahoo, or Fandango, pick the interface of your choice.
The weekly links page is compiled and curated by Bruce Reid, with Seattle Screens and obituaries curated by Sean Axmaker, with contributions from friends of Parallax View.