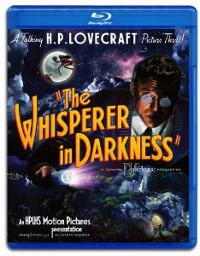 The Whisperer in Darkness (Microcinema), the second feature from the H.P. Lovecraft Historical Society (following up their 2005 short feature The Call of Cthulu), once again approaches its adaptation of Lovecraft in the style of the era in which it was written. Where Cthulu was presented as a highly-stylized silent film in the German Expressionist mode, Whisperer is beholden to early thirties gothic horror, in black and white and a period style that goes beyond costumes and cars to evoke thirties-era performance, imagery, and lighting.
The script, greatly expanded from the 1931 short story of the same name, follows Professor Albert Wilmarth (underplayed very nicely by Matt Foyer) of Muskatonic University, a folklorist fascinated by modern myths and cultural tales but skeptical of any supernatural explanation. Entreated by a Vermont farmer to investigate the reports of fabled creatures in the hills, he confronts technology beyond his comprehension and creatures that defy rational explanation.
The Whisperer in Darkness takes its sweet time unfolding. It is rather talky and not particularly scary or tense, but it is filled with a Lovecraftian sense of dread, of worlds beyond comprehension and a conspiracy of epic proportions. "I think you'll find time runs differently here," he's told upon arrival, a harbinger of mysteries to come. As the filmmakers remark in the disc supplements, Lovecraft wasn't big on endings, so they have filled it out with pieces of other stories, added more fully-developed characters and motivations, and constructed a dramatic plot that takes the original story from a static single-room conversation to a rousing thirties-style thriller.
While director Sean Brannery doesn't exactly capture the distinctive photography and pace of the films that inspired his approach, he makes the most of minimal resources thanks to imaginative imagery and evocative effects. The technology is defined by devices seemingly plucked out of Frankenstein's laboratory and Buck Rogers space ships and CGI is sparingly used and carefully created to match the practical style. The black and white photography, period details, and expressionist flourishes give it a yesteryear texture and a beauty of its own that sets the film in its own netherworld.
Blu-ray and two-disc DVD, with a lively set of supplements that celebrate their achievement. These guys are proud of what they accomplished and really want to share the process with you. The 47-minute "Making of The Whisperer in Darkness" is a detailed portrait of the production, from the story to the shooting on location in the New England states, and the sense of community and camaraderie and affection for the project by everyone involved comes through. Director / producer Sean Branney and producers David Robertson and Andrew Leman revisit much of the information in a commentary track, and there are numerous short featurettes, deleted scenes, and other supplements. And it boasts subtitles in 23 languages, for what it's worth.