20th Century Fox finally follows the leads of Warner, Sony, and MGM and launches their own manufacture-on-demand program aimed at releasing some of the older titles from the vaults, the kinds of "catalog" releases that no longer sell in the DVD sales crash. The 20th Century Fox Cinema Archives debuts with 35 titles in the first wave.
The first wave of releases is now available and the results are… mixed, to say the least. Here's my review of the first three discs I received.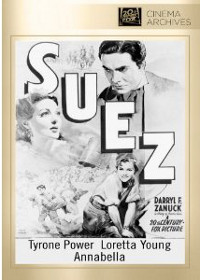 Suez (1938), directed by Allan Dwan and starring Tyrone Power, is one of the better of the big, "respectable" historical dramas that Power made in the thirties and early forties, in the mold of Lloyds of London and In Old Chicago (both previously released by Fox in DVD box sets) but with a grander sense of spectacle. Power's Ferdinand de Lesseps is engineer, entrepreneur, and diplomat, negotiating support from Napoleon III in France and Prince Said in Egypt, battling sandstorms, enduring political catastrophe (being a Hollywood history, Napoleon III's coup is as much a personal betrayal as a national one) and romantic treachery (lover Loretta Young throws him over for a much more politically advantageous suitor) with the pluck of… well, Tyrone Power.
This is classic Hollywood historical melodrama, with dynamic individuals changing history with a mix of vision and sheer fortitude, and a whirlwind tour of geopolitical history as drawing room drama. Annabella plays a spunky, spirited Egyptian girl devoted to the oblivious Ferdinand (again classically Hollywood, the Americans play the French while the film's French star plays the exotic "foreigner"). Allan Dwan, a silent movie pioneer whose long career began in the pre-feature era and straddles blockbuster epics (Robin Hood with Douglas Fairbanks) and low-budget comedies and everything in between, keeps the potentially stodgy material moving at a lively clip, giving the political maneuverings a dramatic flair and a personal dimension, and delivering a spectacular sandstorm that remains the film's standout sequence.
This is the best looking disc of the initial batch I received, a fine mastering of a clean, strong print, with good contrasts and sound and no apparent digital artifacts: a solid presentation of a handsome Hollywood classic.
Diplomatic Courier (1952) is a spy thriller for the Cold War culture of the fifties, with Tyrone Power as state department courier Mike Kells, drafted into service by military intelligence when an agent is murdered before passing his package on. Henry Hathaway draws on the docu-style of his forties films noir The House on 92nd Street and Call Northside 777 and brings a workaday realism into the spy movie, giving it a quality that looks forward to the modern world of political espionage. Power is no suave super agent here, merely a globetrotting American civil servant in Europe doing his job, even when his job is redefined as a decoy to pull the Russians out of the shadows, and I've always found Power more interesting as an older actor playing modest characters rising to a challenge. Here he's something of an amateur tossed into the middle of a battle of wits between veteran agents and Hathaway's unfussy, straightforward style, which can be light on tension and energy, is also grounded in workaday details and practical matters. He gives us spycraft as a kind of dogged police work on an international scale and gives the ordeal (and the potential ramifications) a grounding missing from more larger than life spy thrillers.
Stephen McNally is negligible as the manipulative American Colonel and Hildegard Knef is just fine as the mysterious East German woman who claims to be secretly spying for the Americans, while Patricia Neal all but steals the film a lively, witty American widow who keeps crossing paths with Mike. She really runs with the part, flirting with a knowing smile and refusing to take no for an answer as Mike keeps running out on her for an assignment and she tracks him down with a sly, mock-condemning smile. Karl Malden brings firecracker spunk to the role of an American MP who, upset that Mike has been staked out like a goat, appoints himself Mike's watcher and two-fisted bodyguard, and you can spot Lee Marvin in a small role as an MP (he stands out in his two short scenes) and Charles Bronson and Michael Ansara in uncredited bits.
This transfer is rather noisy, with an overly pixilated look on many of the gray areas of the image, and periodic pools of pale color arising from some of the busier areas of the screen. The effect, common to a lot of early Blu-ray editions of black-and-white movies, is like a sandstorm whipping across the faces of the characters.
Way of a Gaucho (1952), a western set on the pampa of Argentina (and the dialogue reminds us over and over), is like a South American Duel in the Sun, with Rory Calhoun as the "gaucho's gaucho" Martine and Hugh Marlowe as Martine's adoptive brother and patron Don Miguel, who has inherited the sprawling ranch where Martine was raised. When the new laws of the modern government conflict with the gaucho traditions, Martine goes rebel outlaw and declares war on encroaching civilization and technology while Marlowe stands up for progress. As the proud traditionalist fighting progress, he's an ambiguous hero figure, all honor and individualism and romantic notions of a frontier uncomplicated by modern notions of justice, and its clearly a doomed fight: you can only sabotage so many railroad construction sites before the world muscles its way in.
The film was originally developed for Tyrone Power, who left the film when original director Henry King dropped out, and Calhoun is a poor excuse for a firebrand revolutionary, while Marlowe is his usual stiff figure of social conformity. Gene Tierney, though miscast, is heavenly as the woman they both love, though even that dynamic is barely a fizzle. Marlowe's attentions are honorable without any emotion (it feels like all the romance was cut out of the script) and Calhoun fails to ignite any passion (let alone personality). Richard Boone delivers the most engaging character of the movie, a military officer whose respect for Martine doesn't stop his mission to end the gaucho rebellion. Boone has a strength of character and dedication to purpose missing from Calhoun's performance and he's so compelling on screen you wish the film was about him instead. Jacques Tourneur directs on location and makes good use of the landscape, but he can't compensate for the cliché-ridden script or Calhoun's lack of screen charisma.
A Technicolor production, this is the sole color film of the batch I saw and it looks off to me. The hues are muted and soft, more like old two-strip Technicolor than the strong, bold, sharp Technicolor of the forties and fifties. Mostly the transfer has fine (though hardly stand-out) clarity, but many shots have a slight but noticeable blur, as if the lens was dotted with random smears. I can't say with any authority that this is a transfer issue rather than a print problem, but the way it comes and goes suggests an inattentive digital transfer.
A film I did not receive, but has been reviewed elsewhere by folks committed to MOD (including Lou Lumenick at the New York Post), is Fraulein (1958), a CinemaScope picture that Fox has released in an unforgiveable pan-&-scan print, cropping the 2.35:1 widescreen image to 1.33:1 (the dimensions of a standard, pre-widescreen TV set) and losing more than a third of the picture in the process. Surely this was dubbed from an old TV master: "the best available master source was 4:3 pan & scan 1.33, and not the original aspect ratio," explained a Fox rep to Lumenick. If that is true, then why release it in the first wave rather than another, properly formatted widescreen film?
Now a reality check here. There are problems here but overall these releases are better than many of the catalog classics of the first five years of the DVD format and feature a high quality master far superior than any pre-digital TV video editions. The initial discs from Warner Archive and MGM Limited Edition Collection faced their own issues before the companies found their footing and established their own quality control standards.
So Fox has room to improve. It's up to them to acknowledge the shortcomings, take the criticisms to heart, and rise to the standards that have been established by those who came before in the MOD market. There's every reason to give them a chance to do so, just as there is every reason to hold them to the standards set by the veteran players in the MOD market.
More from Lou Lumenick at New York Post on the first wave of 20th Century Fox Cinema Archives, and announcements of the second wave of upcoming releases.