The only links page that matters… except for all the others.
Seattle screenings and cinema events are surveyed at Parallax View here.
Is it legitimate to theorize that some culpability for the brutal murders in Aurora lie at the feet of the movies themselves? Apparently, after throat-clearing assertions of their civil libertarian backgrounds, many film writers feel in this circumstance it would be irresponsible not to speculate. Some have ratcheted up from the film itself to the industry—recall the violent legacy of Warner Brothers studio—or even exhibitors—perhaps midnight screenings should be suspended? Peter Bogdanovich blames the movies being too violent—actually, he has Orson Welles do it for him, which tells you how long that argument's been floated. Speechless myself (out of frustration at my own ignorance and disgust at the inadequacy of words to limn the pain and horror and fury of it all), I find that Bill R. and Glenn Kenny are right that, pace Mr. Bogdonavich's current ambivalence, he said everything I had to on the topic 44 years ago.
"What did she realize, Kitten?" "That all the songs she'd listened to, all the love songs, that they were only songs." "What's wrong with that?" "Nothing, if you don't believe in them. But she did, you see." The new Senses of Cinema inducts Neil Jordan into their database of Great Directors; Carole Zucker ably handles the honors, focusing on how Jordan's understanding of fairy tales informs his sensibilities. Elsewhere in the issue, Murray Pomerance finds even the interior-bound Go Go Tales suffused with Abel Ferrara's nonpareil sense of New York; and Jacques de Villiers traces Germany's romantic heritage, including the Nazi's perversion of it, throughout Herzog's Aguirre.
David Bordwell reminds you it's not just red-state schoolboards that plunk down for creationism over evolution despite all evidence to the contrary; it's also film lovers obsessed with proclaiming what they deem the first instances of a technique while disregarding the context that led to it. Returned from his latest visit to the Royal Film Archives in Brussels, Bordwell provides several lovely examples of deep-focus blocking from mostly forgotten German and Italian silents. In a subsequent post, he rhapsodizes over a magnificent shot of passengers fleeing a sinking ship from the 1918 Italian serial I Topi Grigi, and provides a link to Joseph North's fine thesis paper on the film's Fantomasian antihero, the mostly forgotten Za La Mort.
"In my experience no other American city seems so like a mirage…. So maybe it's not surprising that the film that best captures Houston—its elusive anonymity, its persistent newness—doesn't even reach the city until two-thirds of the way through." Enrique Ramirez's article on Paris, Texas is as beautifully written as it is illustrated—and that's with stills from Wenders's film. Link via David Hudson.
Dan Callahan's actor profiles have excelled at figures who occupied the borderlands, colliding against the stars with great friction, their personas some inscrutable mix of professionalism and deep-rooted frustration at their lot. So of course he's gotten around to Margaret Dumont.
"A girlfriend of mine is in meetings for producing a film, and I was like, 'Don't be passionate.' Because the smallest sign of emotion is terrifying to Hollywood because the people financing films are businessmen. And so they have no emotions. Or they [repress] them so much, they'll die of ulcers." Julie Delpy: actress, director, and rapidly becoming one of the all-time great interviews. In this case, with the Village Voice's Karina Longworth.
"I hope I'm not remembered as a serial killer…. You know, if I'm not remembered for anything like that, I'm ahead of the game. Because we are all on the razor's edge when it comes to our behavior—all of us." William Friedkin, of course, interviewed for Fandor by Eddie Muller. More Friedkin comes from the blog Stray Bullets, which transcribes portions of an onstage Q&A at a BFI screening.
Also at Fandor, a 1993 essay by Mark Rappaport, originally from Film Quarterly, on the inspirations behind Rock Hudson's Home Movies. The list—from Dead Man Don't Wear Plaid to Fleming's Dr. Jekyll and Mr. Hyde to a cable-access production fetishizing young men in their underwear—is as wide-ranging as you'd expect from Rappaport.
Interviewed by Art of the Title, Chuck Braverman recounts the making of Soylent Green's iconic opening credits scrawl through history.
"The pictures they make these days are all MTV. Cut, cut, cut. The opening shot of Touch of Evil was six and a half minutes long." "Six and a half minutes?" "Three or four, anyway." The Bioscope points to another invaluable online resource: Professor Yuri Tsivian's Cinemetrics, which provides a downloadable program whereby one can record the amount and types of shots in a movie, then upload the information to the site's database. As with any crowd-sourced survey some results are obviously wonky—especially at the margins—but scrolled through with a bit of skepticism and common sense there's plenty of fascinating data to be pored over. Not least for Star Trek fans, one of whom is dutifully tallying up the shots in every episode.
"Sir, you can't let him in here. He'll see everything. He'll see the Big Board!" Tom Sutpen offers some shots from the set of Dr. Strangelove—including Peters Bull and Sellers thickly coated in custard pies—as snapped by Arthur "Weegee" Fellig.
Video: One of the most delightfully unexpected cameos in movie history got scuttled when Troma maestro Lloyd Kaufman was cut out of Whit Stillman's Metropolitan—for playing his part too charmingly, no less. Criterion offers the outtakes of what should have been.
Obituary
Frank Pierson, Oscar-winning screenwriter of Dog Day Afternoon (also nominated for Cat Ballou and Cool Hand Luke) and two-time Emmy-winning director, died at the age of 87. He also directed the 1976 A Star is Born (among many others) and served as president of the Academy of Motion Pictures Arts and Science, president of the WGA, and artistic director of the American Film Institute, and taught at the Sundance Institute for the summer labs. That's a career of service by any measure. Hollywood Reporter remembers his legacy.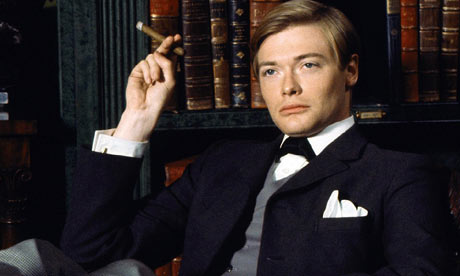 Simon Ward, the British actor arguably most familiar as the Duke of Buckingham in Richard Lester's The Three Musketeers and The Four Musketeers (also of Young Winston, Frankenstein Must Be Destroyed, Supergirl, Zulu Dawn, and most recently of the Showtime series The Tudors), passed away this week at the age of 70, after a long illness. More from the BBC.
Tsilla Chelton, the Jerusalem-born actress with a long stage career in France (she was one of Eugène Ionesco's favorite actors), had roles in Claude Chabrol's Ten Days Wonder, William Castle's Shanks (alongside her former mentor Marcel Marceau) and earned a Cesar nomination for playing the title role in Tatie Danielle in 1990. She died at the age of 93. Ronald Bergan at The Guardian.
German actress Susan Lothar, who died at the age of 51, appeared in many of Michael Haneke's films, including Funny Games, The Piano Teacher, and The White Ribbon. Via David Hudson at Fandor Daily.
Though more TV than movie, Sherman Hemsley, legendary for playing George Jefferson on All In the Family and The Jeffersons, passed away this week at age 74. Robert Lloyd at Los Angeles Times.
The weekly links page is compiled and curated by Bruce Reid, with obituaries curated by Sean Axmaker and other contributions from friends of Parallax View.