The films of Iranian master Abbas Kiarostami have always explored the complex relationship of cinema to the world it reproduces and recreates in a frame. To quote a line from Certified Copy, "It's our perception that gives [art] value." The film, which is also Kiarostami's first film produced and shot outside of Iran, plays with our perceptions in playful and provocative and revealing ways.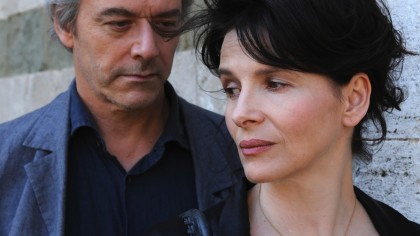 Certified Copy is a truly cosmopolitan affair, with a goddess of a French leading lady (Juliette Binoche), a British opera singer (William Shimell) as his leading man, an Italian location and crew, and a meandering, introspective, fascinating conversation that slips between English, French and Italian. Kiarostami penned the screenplay himself, with Massoumeh Lahidji "adapting" and translating. Binoche plays a French-born antiques dealer and single mother in Italy (she's never called by name in the film and is identified as "Elle" in the credits, which in French means "she"), at once pulsing with life and worn down by it. Shimell is James Miller, a British author and philosopher in Italy for the release (in translation) of his new book on art, authenticity, and value. He arrives at his press conference a calm, confident man, all reason and unflappable self-control, even when she arrives late and carries on a distracting conversation of gestures with her hungry, bored son. She arranges a kind of date with the handsome and assured author, driving him through the alleys of her small town through the countryside to a nearby village to view an "original copy" as they debate the meaning of authenticity. They can't agree on anything, but there is something there.
James is every inch the intellectual philosopher and enjoys the discussion as a kind of exercise, all romantic ideals and philosophical ideas, while Elle, far more emotionally invested, draws from her practical experience of living in the world. Over the course of the afternoon they flirt, spar and grow old together. When a chatty trattoria proprietor mistakes them for husband and wife, they simply segue into the roles and the outing becomes a portrait of a marriage fifteen years on. The transition is not exactly sudden or shocking — in some ways, it's almost imperceptible, thanks to the graceful long takes and the easy rhythms Kiarostami's style of heightened naturalism — but the tectonic shift is like a narrative earthquake that completely shifts the ground beneath their feet and our engagement with this characters. This is not some first date game from a nervous couple indulging in a little joke. Their whole relationship shifts with it: awkwardness and nervous chatter gives way to the rhythms and comfort of old habits and the disagreements of earlier conversations harden into frustration and exasperation over long-standing aggravations. As the afternoon date becomes a wedding anniversary, old patterns of arguments play out all over again in tetchy exchanges and emotional collisions, or so we can gather from the resignation of their responses.