The only links page that matters… except for all the others.
Seattle screenings and cinema events, from the final weekend of SIFF to a revival screening of Pretty Poison to the openings of Prometheus (wide) and Moonrise Kingdom (not so wide), are surveyed at Parallax View here.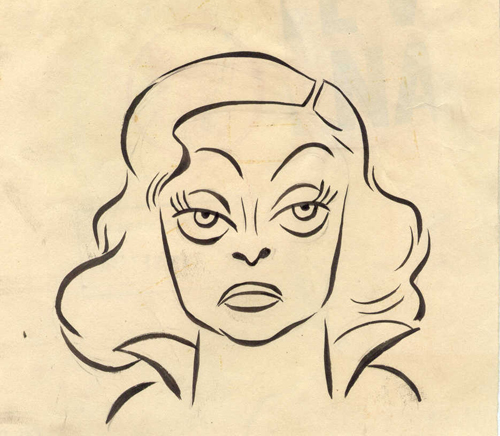 One underappreciated aspect of criticism is how it can sometimes spin gold from flax. Case in point, a silly little vidcast dialogue (it never raises to the level of an argument) between A. O. Scott and David Carr on the nature of film critics is eminently skippable; but, in submitting it to one of the epic Fiskings of all time, Jim Emerson carves out one hell of a mission statement for his profession.
"But if you had kept on, if you'd loved it enough to keep on fighting and struggling, why that fight would show in your face today—in your eyes, in your whole being." David Bordwell's anatomy of film acting reaches the putative windows to the soul, and proves it's not the eyes themselves that communicate, but the lids and brows. Which very, very few have wielded so expressively at Bette Davis.
"Where there's revolution there's confusion and when there's confusion a man who knows what he wants stands a good chance of getting it." Introducing a Film Forum retrospective, J. Hoberman offers a political reading of the Spaghetti Western, a genre inspired by Fanon and Gramsci as much as Ford, and traces its left-leaning sentiments to some key Hollywood westerns of the previous decade. (A brief note in the comments from Dave Kehr intriguingly suggests the lineage stretches back even further, to '30s Bs.)
At Artforum, photographer Taryn Simon and Brian De Palma talk about their all-consuming passion: the perfect image, the focus necessary to achieve it, and the efforts of governments to censor it once it's made. Yes, the pair met collaborating on Redacted; but don't hold that against them, it's a rather interesting discussion.
Elizabeth Greenwood offers up an unexpected but definitive game-set-match riposte to the hackneyed claim women can't be funny: Giulietta Masina in Nights of Cabiria.
"In the blink of an eye and the passing of a thought, I went from calling [auditions] "grovels" to looking at them as sales opportunities, as if I were selling wrenches. And I would go to a buyer and say, 'These are my wrenches. They're the very best wrenches for your job. Here they are, and here's the price.'" Just beneath the surface of Bruce McGill's wide-ranging interview with the A.V. Club's Will Harris is a portrait of the rough life of a character actor, stuffed with humiliations and unnervingly dependent upon chance. But that surface is very much good humor and gratitude for the ride, which is part of the character actor's lot as well.
"When you're in love you are so happy, and when you make movies you are so happy, so these two happinesses are competing with each other. Both of these loves require time and commitment and money, so that's why for young filmmakers I say 'don't fall in love.'" Advice from Apichatpong Weerasethakul, who discusses with MUBI's Daniel Kasman the two short films he presented at Cannes (one of which, the dreamily domestic Ashes, is free to view at the site).
"I have heard of several such individuals who are both wise and reasonable and who also behave almost like decent people, even when making a film." "And you despise them?" "I don't envy them." Those detecting in the recent video releases of Summer Interlude and Summer with Monika a sunnier engagement with life than their director is noted for have some corroboration in a promotional gimmick for the latter that Criterion has posted: a self-interview where Bergman's humorous self-depreciation never tips over into self-loathing.
Roland-François Lack spots a street location uniting Bob le flambeur and Vivre sa vie, a fun bit of trivia that he typically expands upon by drawing attention to Godard's and Melville's idiosyncratic use of transitions divorced from their typical narrative functions.
A look behind the scenes of California's Film Commission lottery, and another roundup of the evidence that such incentives are fiscally counterproductive, from the Wall Street Journal's Ethan Smith. Link via Movie City News.
"Everybody who's ever tried to do anything suspenseful has copied Hitchcock. As a matter of fact, everyone who's ever put two pieces of film together has copied Hitchcock. That's how it's done." Time Out gathers up 10 directors—including Carpenter (source of the opening quote), Leigh, and Cronenberg—to select their favorite Hitchcock. Which they do rapturously, if too briefly.
Speaking of Carpenter's favorite, writing up a capsule review for Vertigo for the New Yorker, Richard Brody made reference to the film's "happy ending." After some respectfully incredulous responses, Brody has expanded his thoughts.
"Your changeable heart just tears me apart you know/as round and around on this merry-go-round I go" Suggested soundtrack to that last item, a rather catchy but yes, complete tonal mismatch of a title song rejected for Hitchock's masterpiece. Spotted on the website for songwriters Livingston and Evans by Matt Seitz.
"There are two reasons why I am successful in show business and I am standing on both of them." The Retronaut digs up one of the more… memorable Life galleries, a 1943 study of Betty Grable's legs. Your call if the mostly-from-the-waist-down images land nearer the fetching side or the creepy.
Obituary
Ray Bradbury passed away this week at the age of 91. The author, whose work lived somewhere in the convergence of fairy tale, science fiction, fantasy, and literature, was first and foremost a storyteller. He was one of the most inspirational writers of his time, engaging the imaginations of many a future writer and filmmaker through his novels and short stories. Though he wrote only a couple of screenplays (including Moby Dick for John Huston) and a few more teleplays (for Twilight Zone and Alfred Hitchcock Presents, among other shows), but his work inspired many more films and TV shows. Gerald Jones pens the obituary for The New York Times and a handful of contemporary authors celebrate his legacy (and influence on them) for Wired online. And don't miss this personal remembrance from Sheila Benson. More obituaries and tributes collected by David Hudson at Fandor.
The weekly links page is compiled and curated by Bruce Reid in collaboration with the editor of and contributors to Parallax View.