The Secret World of Arrietty (Disney), the latest animated film from Hayao Miyazaki and his Studio Ghibli, adapts Mary Norton's classic children's book "The Borrowers" in the old school art of hand-drawn animation. Hiromasa Yonebayashi is the director but the sensibility is very much Miyazaki, who produced, co-scripted, and planned the production.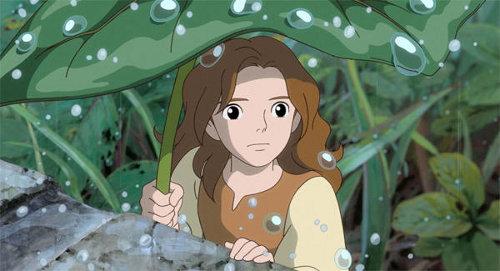 Miyazaki is a living treasure in Japan, a revered storyteller and beloved filmmaker whose work is treated with the same respect as Disney classics in the U.S., and he has long offered strong, brave girls as the protagonists of his stories. Arrietty is yet another dynamic heroine, a teenage girl only a few inches tall who lives hidden in the floorboards of a human home with her father and mother.
She knows of no other Borrowers (as these little people are called, because they "borrow" things the humans won't notice missing in their nighttime forages) so, despite her own instincts, she befriends the sickly boy who has moved into the house and quietly observed her presence.
The images are marvelous, a lovely example of Ghibli hand-drawn animation and a reminder of the kind of personality that comes through this kind of art, but it is the compassion and depth of character that makes it such a moving film. So rarely do films for kids explore themes of mortality and isolation with such delicacy and depth.
Also new this week is the Blu-ray debut of two classic animated features from Studio Ghibli. Castle in the Sky (Disney) and Whisper of the Heart (Disney), written and produced by Miyazaki and directed by Yoshifumi Kondo.