For the Love of Film: The Film Preservation Blogathon III, which runs from Sunday, May 13 through Friday, May 18, 2012, is dedicated to helping the National Film Preservation Foundation raise money to score and stream the recently unearthed reels of The White Shadow, a silent film from director Graham Cutts that young Alfred Hitchcock worked on as screenwriter, production designer, editor, and assistant director, for all to enjoy. The blogathon is hosted by Ferdy on Films, Self-Styled Siren, and This Island Rod, and you can make your donations to that effort at the NFPF website here.
Film historian, critic, and film collector Fernando Martín Peña spent twenty years tracking down the holy grail that was the complete, long though lost "Metropolis."
Fritz Lang's 1927 epic is a landmark science fiction filmmaking, a masterpiece of silent film and a visionary work of cinema, and its reputation has been based on an incomplete version of his original film. After its premiere in Berlin, UFA (which produced the film) cut it down for general release, and it was often cut further for export (the American release was cut by more than a third). But there rumors that an uncut print that had found its way to Argentina, thanks to an ambitious distributor who saw the film in its first run in Berlin, and Peña had heard stories of a private print in the possession of a Buenos Aries film critic and historian, a 16mm reduction of a 35mm print imported before any of the cuts had been made (Peña tells the entire fascinating story here). He spent decades trying to follow the leads to a public archive, where he was met with bureaucratic wall.
In collaboration with Paula Felix Didier, director of Museo del Cine, Buenos Aires, he finally found it print. They confirmed its authenticity and contacted the Murnau Foundation, which had undertaken the task to reconstructing the original version. It was only one of many elements that went into the definitive version that has since screened around the world in digital prints and is now available on Blu-ray and DVD from Kino — lost footage was also recently discovered in a New Zealand archive, and in better condition than the Argentinean print — but it was the essential missing link. Not only did it contribute footage unavailable in any form elsewhere, it provided an visual invaluable guide to the artists, historians and technicians doing the physical work of restoring and reconstructing the definitive version.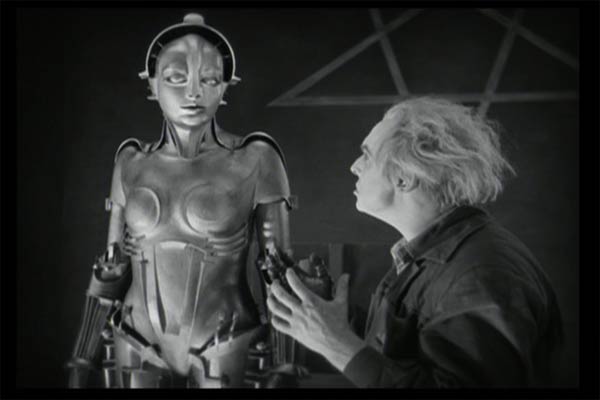 The Murnau Institute first embarked on a major restoration about a decade ago with the materials they had on hand and it revealed just how much footage — including significant sequences and entire subplots — was missing. Title cards sketched out subplots lost when the film was edited down by UFA (against the wishes of Lang), in particular the stories of The Thin Man (Fritz Rasp), who in previous editions is sent by Joh Frederson on a clandestine mission and then all but disappears; Joh Frederson's assistant Josaphat (Theodor Loos), who is fired by Frederson and taken in by Freder; and the worker 11811, who Freder relieves from the exhausting duty of working the hands of the clock-like device. and his adventures in the world above ground where he becomes intoxicated on the decadence. Those stories, suggested in the earlier reconstruction, are played out here, and there are further additions, from an additional action scene in the escape from the flooding underwater city to shots trimmed from within scenes. The restoration of even these brief shots fills out the rhythmic qualities of Lang's editing and adds detail to the montage, and in a few significant scenes it adds to the scope and intricacy of the drama.