The only links page that matters… except for all the others.
Seattle screenings and cinema events are surveyed at Parallax View here.
"She knows the score…She's someone who was abused. I could identify with her. I never could identify with any other white movie star. They were always white people doing white things." Jacqueline Rose, in a beautifully written article that sniffs out more connections than most books on the subject, finds Marilyn Monroe the perfect embodiment of mid-century America—not the one we dreamt on movie screens, but the sometime cruel, confused one most pretended wasn't happening.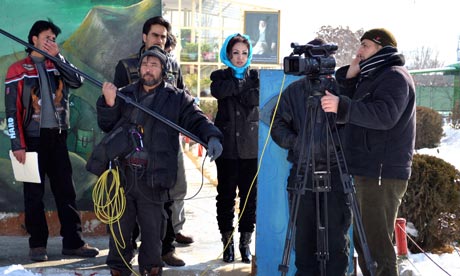 Onscreen, Saba Sahar is "a kind of superhero, doing kung fu high-kicks in traditional dress, carrying victims to safety over her shoulder or riding a motorbike with no hands while firing a gun." Behind the scenes, Afghanistan's first woman director is far more impressive, as Jenny Kleeman's profile attests.
"I always presume every movie I make is my last. My career is very smoothly in decline, each movie making half as much as the prior one." Todd Solondz, interviewed at the Sarasota Film Festival by David Carr, on the business end of things, working with actors, and how he stole a key scene in Welcome to the Dollhouse from North by Northwest. Link via Movie City News.
"Defended by the left-wing press as well as the Surrealists, L'Âge d'or became a cause célèbre, but Buñuel was not there to soak up the attention: he was in Hollywood." Reviewing Román Gubern and Paul Hammond's Buñuel biography The Red Years, J. Hoberman tracks the contradictions of the director's peripatetic pre-war decade. Noted by Mubi.
It might seem the height of backhanded praise, but Bilge Ebiri insists that Christopher Nolan isn't stupid, just obsessively focused on one idea per picture.
"I says, 'Dear Mary, What I really want to know is should I go the whole hog or not? That's my real problem. I'm adjusted okay to the modern world.'" Spencer T. Campbell argues that John Huston's Wise Blood, with its deliberately flattened, dehistoricized characters, succeeds in subverting Flannery O'Connor's message.
"You crazy maniac! Would you please get out of here and leave me alone?" "But Guy… I like you." Examining his two films for Hitchcock, The Siren praises Farley Granger's great courage and actorly intelligence in playing such weak, petulant, manipulated men.
As everyone has after seeing Out of the Past, Allan Fish laments that Jane Greer's career should have been one of the greats.
Criterion offers the text for Hollis Frampton's performance piece A Lecture, a lovely ode to cinema's potential, complete with stage directions should you want to act it out yourself.
Barbara Flueckiger is amassing another invaluable timeline/database, this time chronicling the history of color film. Still a work in progress (there's a crowdfunding page here if you're inclined), even with its gaps the timeline offers fascinating, vibrant snapshots of a medium expanding its palate.
The above link is courtesy of The Bioscope, which also passes along news that the Media History Digital Library has just digitized a massive chunk of crucial, if admittedly arcane, film history:  the seven thick volumes detailing the 1912-13 lawsuit by the U.S. government that broke up the Motion Picture Patents Company. Hard to imagine much of an overlap between film lovers and scholars of patent law, but if you occupy that unlikely nexus, today's your lucky day.
"You know, sometimes what you actually see and what you imagine get mixed up in your memory like a cocktail, from which you can no longer distinguish one flavor from another." Daniel Kasman provides a wealth of astutely chosen screen shots from Argento's Deep Red, all chilly grids and distorted portraits, with a snatch of Goblin soundtrack as bonus.
Video:  Playlist's Oliver Lyttleton offers ten of Saul Bass's magnificent credit sequences. Even with such a wealth to choose from (the article admirably doesn't claim these as anything like a definitively "Best" list), you might be outraged that Bunny Lake is Missing goes, well, you know. Art of the Title has you covered on that one.
Obituary
"Amos Vogel, founder of the legendary ciné-club Cinema 16, co-founder of the New York Film Festival and author of Film as a Subversive Art (1974), has died in New York, having turned 91 just a week ago today." That was the news reported earlier this week by David Hudson at Mubi's The Daily, where essays, appreciations, and remembrances are collected. Eugene Hernandez pays tribute at the website of the Film Society of Lincoln Center.
The weekly links page is compiled and curated by Bruce Reid with the editor of and contributors to Parallax View.