The only links page that matters… except for all the others.
Seattle screenings and cinema events are surveyed at Parallax View here.
Who created that greatest of silent icons, The Tramp? Surviving recollections from Chaplin and Sennett mostly stake their claim each against the other, but John Boorstin points out it's no stretch at all to infer considerable credit should go Mabel Normand's way.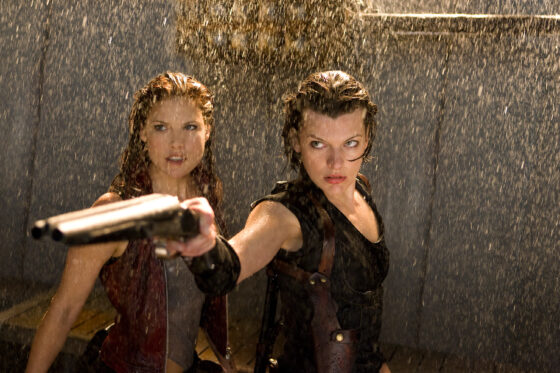 The new issue of Cinema Scope salutes 50 directors under 50 years old; their website is offering a sample of 20 sharp, compact appreciations of filmmakers ranging from Jia Zhangke to Maren Ade to "the elder, least pretentious, and most consistently amusing Anderson of the current director trifecta."
Time Out didn't fool around compiling their list of the 100 best horror films, polling a murderer's row of 126 experts (the Cs alone offer up Roger Corman, Antonio Campos, Alice Cooper and Coffin Joe) and writing up the results with good observations and considerable brio. Which allows for some admirably off kilter selections, though lest you think this lineup differs radically from other such, the accompanying interview is still with William Friedkin. Noted by David Hudson.
The New York Film Academy may be a barely credible institution, but they know an opportunity when they see it. Thus their series of classes in the blossoming film community of Nigeria. Become the Dream, as the bodyguards' t-shirts urge.
Revisiting The Devil, Probably, Dennis Lim assigns the same uncompromising nihilism that ensured the film's relative obscurity to the draw it has on its partisans. Link, one of several of interest, via Girish Shambu.
"So Mars is discovered as just another Earth… with 1:1 relationships not just of oppression but also of love." The Chiseler's Daniel Kasman offers a brief but evocative appreciation for Protazanov's Aelita.
"What I said the other day, you looking like me, that ain't true. You ain't ugly like me, it's just that we both have got scars." At Roger Ebert's blog, Michael Mirasol praises the chiseled, often shadow-draped features of Clint Eastwood, "probably the most recognizable visage in cinema."
Martin Amis recently introduced a screening of Alan Clarke's The Firm, offering his thoughts on Gary Oldman, Kirk Douglas (inspiration for Money's Lorne Guyland), and Hollywood. The highlights are passed along by Graham Fuller.
"The old enthusiasm has gone, maybe. But don't quote that—oh, hell, you can quote it." Andy Rector digs up a terrific profile of John Ford, written by Colin Young for a  1959 issue of Film Quarterly, the shows the legendary pretense dodger at the height of his game.
Speaking of faded enthusiasms, what have things come to if even Kenneth Anger has to tiptoe around the Scientologists? Maybe that's why his interview with Vice's Rocco Castoro seems almost wistful for the bad old days when scandals really exploded, and transgression risked actual arrest.
"Glancing down the list, I find I made things like Action in Arabia, Lured, and The Scarlet Coat. I can only assume that I was paid handsomely for them, but I am at a complete loss as to what action there was in Arabia, or who was lured where, and why. As to the scarlet coat, did I wear it, and if not who did?" The Siren offers a roundup of actors recollecting some of their own best work with less than ecstatic praise.
In preparation for a BFI series, several Hitchcock silents are getting new scores. You can sample five of the composers, and read some of what they had to say about the challenge, at Silent London. Link via Movie City News.
Roland-François Lack's typically exhaustive location hunt for Judex serves to introduce some lovely observations on Feuillade's use of natural light.
Video: Abel Ferrara has been shooting a web series for Vice about an FBI operation in the '70s that targeted heroin dealers attempting to sell their wares through pizzerias. Make that "about" a "vaguely inspired by," because the results so far have been as dreamily plotless, yet oddly compelling as you'd expect.
Obituary
William Finley, a familiar face in the Brian De Palma oeuvre best known for playing the tormented Phantom of the Paradise in the rock and roll musical horror, died in Manhattan at the age of 71. Edgar Wright pens a tribute at his website, more from The New York Times.
Levon Helm, singer and drummer for The Band and actor in numerous films, including Coal Miner's Daughter, The Right Stuff, and The Three Burials of Melquiades Estrada, where he played characters who could have walked right out of one of his songs. Jon Pareles remembers his legacy for The New York Times, and David Browne does the same at Rolling Stone.
The weekly links page is compiled and curated by the editor of and contributors to Parallax View, with the invaluable assistance of Bruce Reid.