The only links page that matters… except for all the others.
Seattle screenings and cinema events are surveyed at Parallax View here.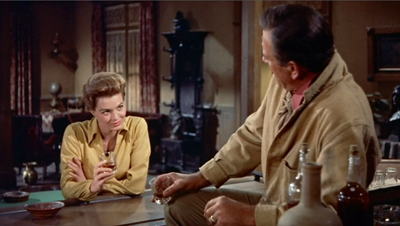 "She Who Is Called Feathers manifests the most dazzling changes in raiment." David Bordwell and Kristin Thompson's mock exegesis on Rio Bravo isn't just a delightfully sustained gag, but a vessel for several profound interpretations of the film, including a deconstruction of some song lyrics that is, keeping with their conceit, revelatory.
A father's haunting anecdote about the moral confusions of living in a nation under occupation kicks off what is shaping up to be a lovely project from Vermillion and One Night's Murderous Ink: a survey of Japanese films from 1949 that the writer digs his way into by scratching at items ostensibly in the margins. Thoughts on the superstitions around Crepe Myrtle and the rareness of tomatoes expand a grief-ridden scene from Kurosawa's Stray Dog; and Ozu's Late Spring and Tadashi Imai's Green Mountains become two more stops in Japan's ongoing anxieties over women riding bicycles.
Your latest round-up on the hazards and economic hardships of switching to digital projection comes via the L.A. Weekly.
The article above opens with a discussion of Christopher Nolan's recent screening for fellow filmmakers of a sequence from The Dark Knight Rises, in an attempt to proselytize for the benefits of 35mm over video. Nolan discusses the subject, as well as his directing style (which, surprise, is highly pragmatic and orderly) with the DGA's Jeffrey Ressner. Link via Movie City News.
"After dinner we'll see a movie. It'll give me ideas." "Use your own ideas instead of stealing them from everyone else." The new issue of Vertigo is dedicated to Jean-Luc Godard. From what I've skimmed Adrian Martin's spirited rehabilitation of Godard's maligned 2006 Pompidou exhibit Voyage(s) en utopie and David Brancaleone's exhaustive situating of the director within the video installation tradition are keepers.
"Want lady partner for treasurer of best 10-cent family theatre proposition in state; must be able to contribute $1,800 toward construction; will clear $700 per month." Michael Upchurch recalls the enterprising career of W. H. Harbeck, theater entrepreneur, travelogue director, and Titanic victim.
"A high silk hat and a silver cane/A watch of gold with a diamond chain/Hi-diddle-dee-day/An actor's life is gay." When you needed lessons on sardonic apprehension, you couldn't do better than Walter Catlett, notes Dan Callahn at The Chiseler.
"You know, I don't need hallucinogenics:  my genes make their own acid." Interviewed by The Guardian's Jason Solomons, Chiara Mastroianni talks, with warmth and considerable good humor, about her legendary parents.
Responding to those who blamed her recent "puffy" appearance on plastic surgery (actually the result of steroid treatments), Ashley Judd blasts off a fiery, explicitly feminist broadside against judging actors by their beauty.
Apropos of nothing in particular, here's David Thomson on "the best movie I have seen so far this year": a 74-second montage of Lindsay Lohan's face that prompts thoughts on the horrors of age, both universal and those unique to celebrity.
"They made that suit very stiff. You constantly had to hold your shoulders back and stand erect. But, oh, that was so perfect." Kim Novak's assessment of Edith Head's costume designs for her two roles in Vertigo is seconded by Iris Veysey.
"Who are the stars?" "No stars, just talent." Edward Copeland tracks all the cameos in Altman's The Player, with a bit of a digression to mourn home video extras lost as formats roll on.
Inspired by hearing of Thailand's floating Archipelago Cinema, Kimberly Lindbergs searches for the most extraordinary theaters in the world. Her ten favorites range from a South Korean immersive experience that sprays the audience with apposite scents to an 8-seat trailer rambling around South Wales.
The new issue of Furore magazine is devoted to mapping the locations of Lamorisse's Red Balloon. Passing along the news, Roland-François Lack takes note of the magazine's charming Flickr set of then-and-now photographs.
Image: Adrian Curry celebrates a birthday-that-should-have-been for Andrei Tarkovsky with a collection of movie posters. To be honest, the offerings were striking me as fine but unremarkable, until Curry ended with a magnificent Russian poster for The Sacrifice that poetically manages to capture the film's most famous sequence without slavishly copying it.
The weekly links page is compiled and curated by the editor of and contributors to Parallax View, with the invaluable assistance of Bruce Reid.