Hulu, the streaming movies and TV service, has an exclusive deal for the Criterion catalogue, a collection that also features a number of titles that Criterion has yet to release on DVD.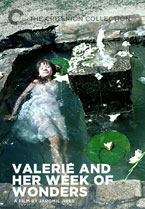 This week, for a limited time, Hulu is making a small selection of "Midnight Movies," cult films, and rarities available to stream for free, with limited commercial interruption.
There are ten titles in all, including the influential Japanese horror classic Jigoku (1960) from Nobuo Nakagawa, George Franju's lyrical, haunting, and poetically horrifying Eyes Without a Face (1960) from France, the American indie horror classic Carnival of Souls (1962) (as of this writing, the link on the Criterion front page goes to the 1998 remake, which is to be avoided, but you can search for the 1962 version easy enough), and the utterly gonzo Japanese haunted house/high school romp/demon killer/surreal fantasy film House (1977), which has to be seen to be believed.
These are all very cool and well worth the time, but the more exciting opportunity in this offer has to do with a collection of titles not currently available on DVD or Blu-ray in the U.S., Criterion or otherwise. These include the quiet, insidious thriller Séance on a Wet Afternoon (1964) from Britain (previously available on Home Vision DVD, long out of print), the fabulous female coming of age psycho-drama fantasy Valerie and Her Week of Wonders (1970) from Jaromil Jires (released on DVD by Facets, now hard to find), and a pair of Japanese films I've not had the pleasure to see yet: Kateo Shindo's The Naked Island (1960) and Kon Ichikawa's Princess From the Moon (1987).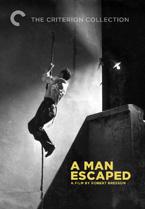 That's only eight, I know. I saved the final two titles for last because they are neither genre films nor "Midnight Movies" in the conventional sense. They are simply classics by any measure.
A Man Escaped (1956), Robert Bresson's adaptation of Andre Devigny's memoir, transforms the French Resistance fighter's capture, imprisonment, and escape from the Gestapo during the German occupation in acetic film of documentary detail. Less acted than "modeled" with impassive restraint, accompanied by an uninflected narration and built up with an obsessive attention to minute details (Bresson shot on location at the actual prison in Lyon), this resolutely Bressonian film is also a gripping thriller, albeit a severe, controlled one. He denies us everything outside of his perspective and elements extraneous to his purpose. In such austerity the tiniest of details take on a monumental significance. This has been on DVD before, from New Yorker, but it's been out of print for a long time.
And seeing it as part of the Criterion library on Hulu does give me hope of a future Criterion Blu-ray and DVD release.