Corman's World: Exploits of a Hollywood Rebel (Anchor Bay) profiles Roger Corman, the legendary director and producer who helped launch the careers of some of the greatest actors and filmmakers of the last five decades.
Alex Stapleton's documentary is an entertaining, zippy tour through his career, framed with behind-the-scenes footage from the production of Dinoshark, one of his SyFy Channel original films, and an affectionate portrait of the most unlikely filmmaking rebel of his time ("I was probably the straightest guy in a pretty wild movement," he says of his relationship to the counterculture). And if it doesn't offer anything new to our understanding of Corman, as filmmaker, producer, or person, it nicely encapsulates his legacy and his philosophy and reminds us just how savvy and thoughtful a filmmaker he was and is. Even while making films like Dinoshark.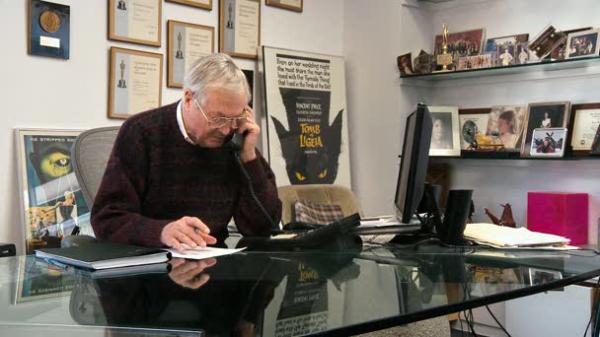 This is the second theatrical documentary feature about Corman—the first, Hollywood's Wild Angel, was made almost 35 years ago (which alone gives an idea of the scope of his career)—and it appears to borrow some archival interviews from that film to mix in with new interviews from the likes of Jack Nicholson, Robert De Niro, Ron Howard, Martin Scorsese, Pam Grier, Jonathan Demme, Joe Dante, Peter Bogdanovich, and a lot of other folks. William Shatner talks about making The Intruder (the only Corman film to ever lose money?). Polly Platt tells us that Corman offered her a chance to direct if she wanted to. And Nicholson tears up recalling just how many opportunities that Corman gave him in his formative years.
Where Stapleton does himself credit is acknowledging that the great span of his accomplishments, from knocking out cheap monster movies to distributing films such as "Cries and Whispers" and "Amarcord" in the U.S. (including introducing them to drive-ins!), from giving directors Martin Scorsese, Jonathan Demme, Ron Howard, Peter Bogdanovich and many others their first shot at making commercial features to recycling standing sets with scripts cobbled together overnight, are not contradictions in a career. They are definitions of a career.
On Blu-ray and DVD, with a smattering of supplements, including 12 minutes of extended interviews and a 15-minute compilation of "Messages to Roger" from the interview subjects.
And in a related release this week is the Corman-produced SyFy Original Movie "Camel Spiders" (Anchor Bay), the modern version of the kind of drive-in movies that Corman specialized in throughout his career. Brian Krause and C. Thomas Howell headline the cast of southwest citizens battling an infestation of deadly spiders accidentally transported by soldiers from combat in the Middle East. Blu-ray and DVD, no supplements.