"I'd like everything to be perfect," moons young husband Pierre (Jean Sorel) to his beautiful wife Séverine (Catherine Deneuve), trotting down a country road in a horse-drawn carriage in the opening of Belle de Jour. "If only you weren't so cold." Her apology doesn't merely fall on deaf ears, it inflames him to sadistic sexual retribution, like something out of a Victorian melodrama by way of the Marquis de Sade. She's hauled out of the carriage by the two drivers, dragged through the woods, bound and gagged, stripped and whipped, and finally ravished by the servants, at which point her expression changes from the wide-eyed stage terror of innocence abused to the surrender to physical ecstasy.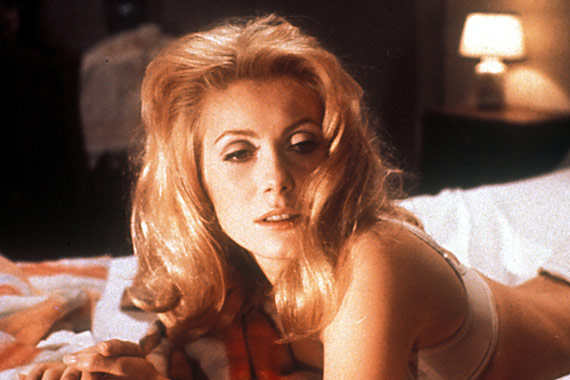 "What are you thinking about, Séverine?," asks the same voice, now offscreen and, in a sense, in another movie. "I was thinking about you," she answers with a sweet but aloof smile, sitting in bed in their city apartment like a porcelain princess while her doting husband readies himself for bed. But the spell is broken and the reverie over. The fantasies of her imagination do not cross over into her real life, where she sleeps alone in a single bed by her choice, the frigid wife of the opening seconds once again. He inches in for a romantic overture and she once again rebuffs him. A year after marriage, she's still unable to give herself to her husband, a cultured, proper virgin with lurid sexual fantasies behind her physical coldness.
Luis Bunuel's cheerfully brazen satire of sexual repression, social decorum, and erotic fantasies is in the running for Bunuel's kinkiest film, and that's saying a lot. You could say that Belle de Jour stars two Catherine Deneuves: the dreamy, romantic young innocent of The Umbrellas of Cherbourg (1964) and the uptight, anxious sexual repressive of Repulsion (1965). Buñuel didn't cast the actress — she was pushed on the director by the producers, Raymond and Robert Hakim, and Deneuve had the impression that he took her with some reluctance — but he uses that cool, aloof Deneuve quality as a defining quality of Séverine, the beautiful young wife of a gallant but often absent (emotionally as well as physically) husband. On the surface she's the picture-perfect bourgeois wife of a respected young surgeon with an almost reflexive disapproval of every break with respectability and dignity she sees or hears about, especially when it comes to Pierre's friend Henri Husson (Michel Piccoli), a "rich and bored" provocateur and gleeful chauvinist who doesn't let Séverine's disdain prevent him from constantly propositioning her. Yet she escapes her own resistance to physical contact with her husband through similar fantasies and finally follows them to a real-life Paris bordello hidden away in an urban apartment, where she signs up for an afternoon shift (thus her working name: Belle de Jour).