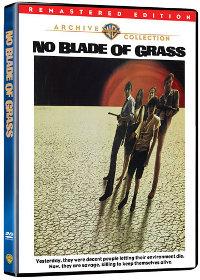 Cornel Wilde's grim, fatalistic end-of-the-world thriller No Blade of Grass is a forgotten dystopian classic of its time. Gritty and brutal, built on fears of ecological devastation through pollution and overcrowding (with hints of genetic manipulation gone bad), this 1970 eco-apocalypse thriller seems to have gotten lost in the overcrowded apocalypse now science fiction cinema of the era.
Adapted from the novel The Death of Grass by John Christopher, it has vague resemblances to the nuclear holocaust thriller Panic in Year Zero in its basic premise of a man hardening to deal with the brutal new world order to save his family. But in place of nuclear war (the favored device of most apocalyptic films of the era) is ecological collapse: a virus poisons the world's grass and cereal crops and causes a dire food shortage. As panic spreads across the globe, John Custance (Nigel Davenport), a former military officer and an affluent husband and father in London, makes plans to take his family north to his brother's fortified compound, prepared for just such an emergency. But he puts off leaving until it is almost too late: mobs start looting, riots break out and London is put under martial law with roadblocks posted to prevent a flight from the city. To save his family, John becomes as hard and as ruthless as the looters, the rogue militias and the roving gangs preying upon the citizens fleeing the cities.
Cornel Wilde is not the most subtle of directors. Here he's a provocateur, favoring primal images to make his points. A montage of scenes of nuclear tests, overcrowding, and pollution poured into the waters, pumped into the skies and spread over crops in the form of pesticide opens the film as Wilde's narration sets the stage of environmental devastation. Early in the film, as John meets with his brother in a city pub, images of famine and starvation and long lines for food rations play on TV news while customers gorge on the lavish buffet spread out in the bar. Wilde hammers the point home in blunt terms until the irony and social commentary shifts from a statement decadence to the willful ignorance of a population that still believes it can hold out. Flashforwards hint at the horrors to come while flashbacks recall a time before such threats were even imaginable. It's a rather clumsy and unwieldy tactic as executed by Wilde, and it tends to confuse the narrative until the audience gets used to his style, but it's all part of his rabbit-punch assault on our sensibilities.