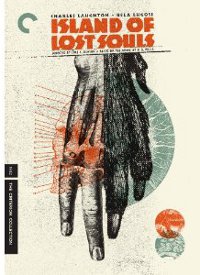 If you think Top Ten film lists are arbitrary, try putting together a "best of" for DVD and Blu-ray. What's the criteria? The best movies? Quality of video and audio mastering? Creative featurettes and archival supplements? Historical importance? Cult interest? Or some balance of all these?
I'm all for the balance, which makes it as subjective presentation as there is, so allow me to break it down into a few categories to spread out the kudos. After all, it's hard gauge the qualitative difference between a single disc debut of a historical cult item and a deluxe box set of a classic Hollywood blockbuster from the golden age.
I did not see everything that came out in 2011, of course, or even most of it, and my viewing choices were (like anybody's) influenced as much by my own interests as by editorial demands, and shaped by deadlines and time constraints. In particular I did not see as many manufacture-on-demand releases as I would have liked, simply because there are far more interesting releases than I have the time to see. But based on what I did get the chance to watch and explore, here are my choices for the best DVD and Blu-ray releases of 2011.
DVD of the Year
Island of Lost Souls (Criterion)
"Are we not men?" Paramount's 1932 answer to Universal's gothic horrors is appropriately less Universal gothic than Paramount elegance, yet it is also more weird, cruel and transgressive, a wicked horror with Charles Laughton as a the proto-Dr. Mengele vivisectionist who operates on his subjects without anesthesia or compassion in an operating room he calls "The House of Pain." Themes of humanity, identity, instinct, sex, bestiality, compassion and cruelty roil around in the hothouse jungle fabricated in the studio out of fog and flourishes suggesting the primitive and the perverse, a feral world as claustrophobic as it is intimidating.
It has been one of most requested classics for years. Though released on VHS and laserdisc in the nineties, it had been MIA on DVD, in large part because of the deplorable condition of the vault elements. No negative exists and the best 35mm prints were still damaged and incomplete. Criterion took on the task of preparing the DVD by piecing together the best possible version from multiple sources, from a damaged fine-grain 35mm positive to a 16mm print from a private collector, and digitally repairing as much damage as possible. The result is the first complete presentation of the most perverse and the least seen of thirties horror movie landmarks. There are better looking and sounding discs this year, and more exhaustive collections of supplements, but the effort expended in creating this release and the goodwill of the contributors makes this labor of love my pick for the best of 2011. DVD and Blu-ray. Reviewed on Parallax View.
Special Edition of the Year
The Social Network (Sony)
Directed with typical technical fastidiousness and textural richness by David Fincher from a verbally dexterous script by Aaron Sorkin, this story of the creation of Facebook is less interested in how the website was created than in how a young, arrogant genius with no people skills managed to deconstruct and reconstruct the social experience as a web-based simulacrum: a club that even Mark Zuckerberg (or, rather, "Mark Zuckerberg") could thrive in. This is a story of hubris and ambition, of friendship and jealousy, of class and cultural cache, of success as status and revenge.
Fincher is one of the most exacting filmmakers in the world today and the supplements on the DVD and Blu-ray release offer a glimpse into his process, from a reflective commentary track to the superbly produced feature-length documentary "How Did They Ever Make a Movie of Facebook?," among the many supplements. It's as intelligent and illuminative a collection of supplements as you'll find on DVD/Blu-ray and it's a superbly-mastered disc to boot. DVD and Blu-ray. Reviewed on Parallax View.
Blu-ray of the Year
T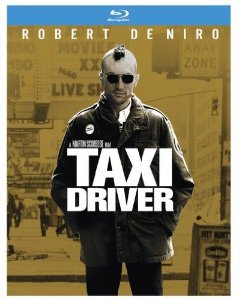 axi Driver (Sony)
Martin Scorsese' incendiary masterpiece of alienation and anger and urban anxiety may be the most maverick vision in all of seventies American cinema. It is certainly one of the most courageous and passionate portraits of the American underbelly ever put on film, a movie bathed in blood as much as in light, and revisiting the film on its Blu-ray debut, mastered from the brand new digital restoration currently making the rounds on the festival and repertory cinema circuit, only confirms the power of the film to, after all these years, sink the audience into the mind and filthy, fetid world of Travis Bickle.
The film received a top-to-bottom digital restoration, which premiered at Berlin before Sony's Blu-ray debut of the modern classic. The new restoration doesn't "clean up" the image so much as sharpen the texture of the portrait — it's so visceral it you can feel the heat and grime waft off the screen — and the Blu-ray features all the supplements of previous DVD releases plus the original commentary track recorded by Martin Scorsese and Paul Schrader for the 1986 laserdisc: one of the very first commentary tracks ever recorded. New to this edition is the interactive Blu-ray exclusive "Script to Screen" function, which scrolls actual script pages (with Scorsese's notations) along with the film. A great presentation of a great film. Reviewed on Parallax View.
Runner-up:
Three Colors: Blue White Red (Criterion)
Krzysztof Kieslowski ended his career with this trilogy of delicately connected films that many hold as his greatest work. Criterion returns to the original materials for new high-definition masters for the Blu-ray debut, and they are stunning. In place of the commentary tracks from the previous Miramax DVD release, Criterion offers superb video essays for each film. Reviewed for Turner Classic Movies, linked via Parallax View.
Home Video Debut of the Year
The Prowler (VCI)
The long-awaited home video debut of Joseph Losey's superb 1951 film has been one of those acknowledged classics of film noir that many have had to take on faith for far too long. Produced by Sam Spiegel and scripted by the blacklisted Dalton Trumbo (behind front Hugo Butler), it is a classic of working class envy and restless resentment of the "bad breaks" that arrogance and assumed entitlement get you. Van Heflin is superb as the sour Horatio Alger, a former golden boy turned brutal opportunist willing to do anything to get what he's sure is due him, and he shifts from one pose to another to charm and cajole those around him with cold-blooded focus. It doesn't look like a classic film noir—Losey uses light to reveal and lay bare rather than cast webs across the characters—and he saves the shadows for intimacy to show the corruption of emotion and the way desire clouds judgment. That subtle touch makes the savagery of the scheme all the more brutal.
All but absent from TV showings for decades and never officially released on home video in any form, comes from a restoration by the Film Noir Foundation partnered with the UCLA Film and Television Archive and an insightful collection of supplements. It is the best looking disc to come from VCI to date. DVD only. Reviewed on Videodrone.
Runner-up:
The Complete Jean Vigo (Criterion) celebrates the legacy of France's cinematic poet laureate of lyrical fantasy in everyday life with newly remastered editions of all four films—two early shorts, his sole feature (the sublime L'Atalante) and revered extended short (the playfully surreal Zéro de conduite)—made by the great French director before he died in 1934 at the age of 29. Reviewed on Videodrone.
Box Set (Film Division)
Treasures 5: The West, 1898-1938 (Image)
This collection of features, shorts, documentaries, newsreels, travelogues and fragments from the silent and early sound era is more about preservation and education than simple entertainment, but it is entertaining as well as revealing. It's a record of the American West as it was transforming from frontier to modern world, as viewed through fictional representations and documentary recordings. The richness of offerings and the span of formats presents a visual record that makes the case for film preservation better than any lecture. DVD only. Reviewed on Videodrone.
Runner-up:
Landmarks of Early Soviet Film: A Four-Disc DVD Collection Of 8 Groundbreaking Films (Flicker Alley) may sound like dry lesson plan in film history on the surface but the diversity of films, from dynamic dramas to witty comedies to striking documentaries, makes this collection a revelation for lovers of silent films, classic cinema and adventurous filmmaking. DVD only. Reviewed on Turner Classic Movies, link via Parallax View.
Box Set (TV Division)
The Ernie Kovacs Collection (Shout! Factory)
Ernie Kovacs was the first genius of TV comedy. Not comedy on TV, mind you, but comedy unique to TV. Kovacs used the screen as his stage, the technology as his tools and the possibilities inherent in the medium as his limits. In a medium before computer animation, digital editing or even videotape, when most sketches played out like a filmed stage show, he created gags that played out like cartoons, defying audience expectations with images created with primitive blue-screen and spilt-screen effects, editing surprises and self-reflexive acknowledgements of his place a TV entertainer interacting with an audience. Shout! Factory's six-disc collection presents Kovacs material from the span of his professional TV career and the range and creativity of the work in this collection shows that his work ranks beside Monty Python's Flying Circus as landmarks of innovative and creative television comedy. DVD only. Reviewed on Parallax View.
Runner-up:
Law & Order: The Complete Series (Universal)
With less than half of the series available on individual DVD sets, this megaset offers all twenty seasons and 456 (!!!) episodes for the first time. It's 104 DVDs packed into a 12″ by 7 1/2″ by 5 ½" box, weighing in at just under ten pounds and carrying a retail price tag of $699.99, though you'll be able to find it discounted for up to hundreds of dollars less. DVD only. Reviewed on Videodrone.
Discovery of the Year (films and filmmakers I first met thanks to home video)
The Fernando Di Leo Crime Collection (RaroVideo)
Fernando Di Leo was, in the estimation of genre-hound Quentin Tarantino, "the master" of the Italian gangster movie. This set spotlights four of his signature films from the early seventies: Caliber 9 (1972), The Italian Connection (1972), The Boss (1973) and Rulers of the City (aka Mr. Scarface) (1976). Di Leo has none of the baroque style of the giallo that flourished at the time, nor the operatic bloodbaths of the spaghetti westerns. The violence of these film is extreme but direct and he shoots the same way, with a camera that constantly brings us into the middle of every conflict and an almost garish display of blunt color. These are crude people with a façade of culture trying to cover a savage nature, and the bigger the boss, the more barbaric the behavior. And great American co-stars as well: Henry Silva, Woody Strode, Lionel Stander, Jack Palance and more.
Most (if not all) of these films had been haphazardly released in the U.S. on DVD and/or VHS, in sloppy, indifferent English dub versions under a bunch of alternate names. This collection, from the Italian label RaroVideo, presents the complete, uncut versions with the original Italian soundtracks and good English subtitles with alternate English dub soundtracks (with the American stars speaking their own lines). DVD only, but a Blu-ray is announced for 2012. Reviewed on Parallax View.
Runners-up:
Cul-De-Sac (Criterion)
Roman Polanski once cited this sly little character piece, set in an isolated medieval castle on the barren British coast, as his favorite film. I now see why. A stunning disc and a welcome debut of a brilliant black comedy and a wicked little psychodrama. DVD and Blu-ray. Reviewed on Parallax View.
People On Sunday (Criterion)
This buoyant little 1930 portrait of a lazy Sunday in Weimer Berlin, launched the careers of some mighty impressive talents (including Billy Wilder, Fred Zinneman, Robert Siodmak and Edgar G. Ulmer) and influenced a generation of filmmakers. And it's finally on home video. DVD and Blu-ray. Reviewed for Turner Classic Movies, link via Parallax View.
Araya (Milestone)
Margot Benacerraf's 1959 documentary is non-fiction filmmaking as poetic realist portrait. DVD only. Reviewed on Parallax View.
Second Chance Cinema: New Films Discovered and Rediscovered on Disc
Amer (Olive) – This delirious mix of coming-of-age movie, dream film and psychedelic horror is a celebration of the style, the texture, the psycho-sexual atmosphere of the best examples of Italian giallo (a stylish brand of Italian horror that swirls overripe color and perverse violence with visceral imagery, voyeuristic tendencies and flamboyant camerawork) recreated in a triptych that could be a twisted Walter Mitty adventure from a Dario Argento fanatic. While the cinematic phantasmagoria is more interesting than any psychological reading or narrative understanding, it's like mainlining decades of giallo highlights in a single screening.
While it played film festivals, it never really got any theatrical screenings outside of the New York and a few select cities, so the DVD and Blu-ray release is the first chance most people had any chance to see this. The discs also include the first five films by the filmmaking team of Hélène Cattet and Bruno Forzani, a series of shorts that explore the same love of horror style, with introductory notes by the filmmakers. Reviewed on Videodrone.
Runners-up:
Uncle Boonmee Who Can Recall His Past Lives (Strand)
Winner of the Palm d'Or at Cannes 2010 and finally stateside in 2011, Apichatpong Weerasethakul's film is gentle and sublime and magical and magnificent, a film straddling the physical and the spiritual worlds as experienced by a dying man who… well, you can read it in the title. Reviewed on Videodrone.
Road to Nowhere (Monterey)
Monte Hellman's first feature in 21 years is as dense, enigmatic and challenging as his early masterpieces, The Shooting and Two-Lane Blacktop. Reviewed on Parallax View.
Manufacture-on-Demand
No Blade of Grass (Warner Archive)
Cornel Wilde's end-of-the-world thriller is, to my mind, the most underappreciated science fiction film of the seventies. Gritty and brutal, built on fears of ecological devastation through pollution and overcrowding (with hints of genetic manipulation gone bad), it is both ambitious and rough around the edges, a warning of the stresses we put on the planet and a commentary on the nature of humanity under pressure reverting to a kind of tribal behavior in the wake of social breakdown. This 1970 eco-apocalypse got lost in the overcrowded apocalypse now science fiction cinema of the era and has never been available for rediscovery on home video. Until now. The "Remastered Edition" from the Warner Archive looks very good and is complete and uncut, with all the provocative imagery (including a clinically explicit live child birth) intact. Reviewed on Videodrone.
Runners-up:
99 River Street (MGM Limited Edition Collection)
Phil Karlson is, to my mind, the toughest of the film noir directors and this is arguably Karlson's greatest film and certainly his most beautifully brutal, is a film driven by the fury of a man who is tired of being life's punching bag. It is also the best-looking disc of the numerous I've seen from MGM Limited Edition Collection: well mastered from an excellent print, with a vivid image, strong contrasts, sharp focus and good detail and texture. Reviewed on Parallax View.
The Merry Widow (Warner Archive)
I appreciate the Warner Archive's commitment to silent cinema and this is a top rate edition of Erich von Stroheim's slyly salacious featuring a pipe organ score arranges and performed by Dennis James: the only silent film score performance by James currently available on DVD. With so many silent films arriving on MOD with needle-drop compilation scores or old, indifferent organ or piano pieces, I'm happy to bring attention to this one. Reviewed on Parallax View.
Supplement of the Year
Blue Velvet Blu-ray (MGM)
The Blu-ray debut of David Lynch's insidious classic, features a collection of over 50 minutes of deleted scenes, edited by Lynch himself into a phantom feature of stories around the edges of the film. These pieces were pared away in the editing, like a sculptor chiseling away to get to the perfect form, but they are full of visual delights and offbeat humor, narrative sidetrips and character embellishments. They offer glimpses into the inspiration and explorations of Lynch as a filmmaker and marvelous addenda to the finished film, a look into roads not taken and details whittled away to reach the narrative focus and tonal balance of the final piece. More at Videodrone.
Oops of the Year
While controversies raged over the readjusted aspect ratio on Barry Lyndon, the green tint in Peter Jackson's remastering of The Fellowship of the Ring: Extended Edition and George Lucas once again revising the Star Wars films for their respective Blu-ray debuts (details at Videodrone), the most glaring gaffes of the year belong to the sloppiness in the restoration on the main titles sequence of West Side Story (this in a deluxe edition), which Fox did not consider important enough to issue a recall, and the poor quality of the video mastering of Paramount's My Fair Lady, which has been roundly condemned as the worst release of the year.
Far less damaging (and much funnier) is the clueless description on the back of the DVD and Blu-ray releases of Atlas Shrugged: Part 1 from Fox: "Ayn Rand's timeless novel of courage and self-sacrifice…" In fact, it's supposed to read "courage and self-interest," which anyone who has read Rand knows is closer to the mark of her philosophy (because as we all know, nothing is more courageous than self-interest). Unlike West Side, this was considered important enough to recall from the shelves. Hey, it's not like they were actually selling anyway.
More Essential/Notable releases:
Le beau Serge / Les cousins (Criterion)
Ben-Hur: 50th Anniversary Ultimate Collector's Edition (Warner)
Blow Out (Criterion)
Citizen Kane: 70th Anniversary Ultimate Collector's Edition (Warner)
Jean-Luc Godard's Histoire(s) du Cinema (Olive)
Kiss Me Deadly (Criterion)
Senso (Criterion)
Sweet Smell of Success (Criterion)
The Ten Commandments: Six-Disc Limited Edition Gift Set (Paramount)
The Warped World Of Koreyoshi Kurahara (Eclipse Series 28) (Criterion)
MOD:
The Andy Hardy Collection: Volume 1 (Warner Archive)
Bombshell (1933) / Jean Harlow 100 (Warner Archive)
The Letter (Warner Archive)
Park Row (MGM Limited Edition Collection)
The Quatermass Xperiment (MGM Limited)
Two Weeks in Another Town (Warner Archive)
The George Sanders Saint Movies Collection (Warner Archive) / The Falcon Mystery Movie Collection: Volume 1 (Warner Archive)
Other lists:
Videodrone's Best of 2011 in DVD and Blu-ray
Videodrone's Best of 2011 – TV on disc and MOD
Videodrone's Best of 2011 in DVD and Blu-ray – Special Mentions
DVD Talk's Top Releases of 2011
DVD Beaver Poll
DVD Talk's Top Releases of 2011
DVD Verdict Golden Gavel Awards
Glenn Erickson: "Most Impressive Discs of 2011" at DVD Savant
Adam Jahnk: "The Most Welcome Discs of 2011" at The Digital Bits