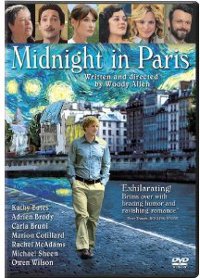 Who would have predicted that Midnight in Paris (Sony) would become Woody Allen's most financially successful film ever?
On the one hand, the wish fulfillment fantasy of an American screenwriter (Owen Wilson) on a Paris vacation who is whisked back in time and welcomed into the company of the Lost Generation artists of the twenties, is pure lark, a waking dream of delights where the fondest wishes are delivered with idealistic perfection. On the other, Allen's brings his fantasy to life with such affection and joy that he transports us into his dream come true as a shared fantasy. We, too, are embraced in the bosom of this society, welcomed into the company of F. Scott and Zelda Fitzgerald, Ernest Hemingway, Gertrude Stein, Pablo Picasso, Salvador Dali, Luis Bunuel, et al. as an equal. All we have to bring is a little wit, and the amiable Wilson does just that.
Allen doesn't work at convincing us it is anything but a fantasy. In fact, he revels in the fantasy and simply enjoys the experience, as does the tremendous cast he invites to the party. But no one exudes more delight that Wilson, the most open and accepting and amiably sincere of Allen's stand-ins, strolling into every situation with a grin across his face and an easy acceptance of everyone he meets. No kibitzing malcontent here, Wilson is the soul of generosity. This is a man who just wants to share the joy of his discoveries. He just needs to find someone who values them as much as he does.
It's also a heartfelt love letter to Paris. Taking his camera to the streets, Allen offers the loveliest walking tour of the city I've seen on screen, and in his time travel reminds us of the history that resonates in the very streets and skyline views of the city. Midnight in Paris is surely the most romantic vision of Allen's career.
Rachel McAdams co-stars as his garishly superficial fiancée, Marion Cotillard is his twenties dream girl, and Kathy Bates, Adrien Brody, Corey Stoll, Tom Hiddleston and Alison Pill populate the cast of artists populated the culture of expatriate artists in twenties-era Paris.
The DVD and Blu-ray both include the featurette "Midnight in Cannes," a very brief (under five minutes) panel discussion at Cannes with director Allen and stars Wilson, McAdams and Adrien Brody. The Blu-ray also features a gallery of case and crew stills.