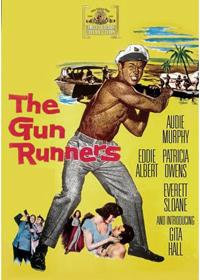 Don Siegel's low-budget 1958 adventure The Gun Runners is not exactly a remake of To Have and Have Not but it is the third screen adaptation of Ernest Hemingway novel. Audie Murphy takes the lead here as independent skipper Sam Martin, who rents his cabin cruiser to tourists looking to fish the waters of Key West. When his latest customer skips on the bill and he gambles himself into the hole attempting to win enough to make his payments, he ends up in debt to a gun runner (Eddie Albert), making illegal trips to Cuba under cover of night so Albert can make his deal with the Cuban revolutionaries. The politics of the situation aren't even hinted at, but then Albert's character is a businessman, not a patriot or an idealist.
It's a stock thriller premise brought to life with clever screenwriting (by Daniel Mainwaring and Paul Monash, and reportedly an uncredited contribution from Ben Hecht), deftly turned characters, a terrific supporting cast and delightfully sexy rapport and physical intimacy between Murphy and Patricia Owens, who plays his wife. The bloom hasn't worn off this romance and her playful flirtations in the dive of a waterfront bar, pretending to be a floozy seducing the married Sam from his "wife," is one of the sexiest scenes I've between a married couple in a fifties feature.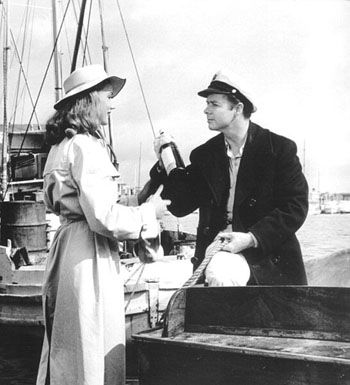 To say that Murphy is the weakest performance of the film isn't as much a criticism of the actor (who, let's face it, was never the most versatile or dynamic of performers) as a plug for the terrific cast around him. Gita Hall, a former Miss Stockholm, made her first American appearance here and she terrific, not so much a femme fatale as a gangster's moll for hire who provides Albert with cover and flirts with Murphy while keeping him under watch. Everett Sloane is Murphy's rummy deckhand, a more pathetic figure than Walter Brennan's incarnation in To Have and Have Not, which gives his heroism a greater impact. Jack Elam and John Qualen have small roles and Richard Jaeckel pops up as Albert's henchman. But it's Albert who steals the film as the smiling crook of a gun runner, ready to sacrifice anyone and everyone for a buck.
Siegel stages what little action there is in the cramped quarters of the cabin cruiser, making the most of his very limited resources. He even plays with Murphy's unlikely leading man status, tossing in comments about his "baby face" before letting the diminutive hero loose, not so much a tough guy as a tough, resilient independent taking care of his own.
The DVD-R disc from the MGM Limited Edition Collection presents the film full frame (1.33:1), as it would show on TV, but by 1958 almost every feature was shot to be screened theatrically in at least 1.85:1 ratio. I zoomed the film to fill the edges of the screen, lopping off slivers of the top and bottom image, and the framing looked better: more accurate, more focused on the performers, cutting out the dead space off the safety zones on the top and bottom. No supplements.