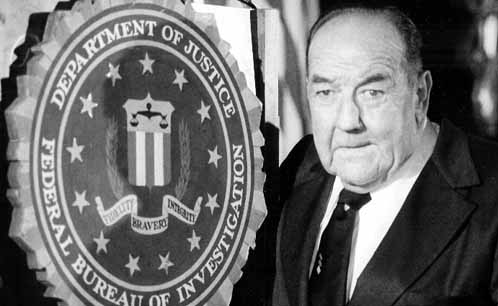 J. Edgar Hoover was as much a publicist as he was a lawman over his career, making himself the face of the FBI as far as the media was concerned. He was credited as consultant on numerous films, TV and radio shows and even comic books, seen in newsreels and portrayed as a figure of paternal authority whenever seen or referred to in classic movies. So it's kind of surprising that no biopic ever surfaced until after his death. You'd think he would have nurtured quite the big screen hagiography in his lifetime.
Instead, the first Hoover bio-pic hardly makes him out to be an American hero. And it wasn't by Clint Eastwood, either. The Private Files Of J. Edgar Hoover (1977) was a labor of love project from exploitation legend Larry Cohen, an independent director (and writer and producer) if there ever was one, and it was the closest that he ever got to an all-star cast.
Oscar winner Broderick Crawford is Hoover, the once-dedicated agent who cleans up the bureau out of moral indignation over abuses and then builds it into his own private duchy of power and control, using information and blackmail to maintain his position and authority through every successive administration. Rip Torn is the young agent who becomes disillusioned by Hoover's abuses and a guest cast of historical figures is incarnated by a great collection of character actors and class acts: Howard Da Silva as Franklin D. Roosevelt, Michael Parks as Robert Kennedy (who is actually far more convincing than "J. Edgar"'s Jeffrey Donovan), Raymond St. Jacques as Martin Luther King, Andrew Duggan as Lyndon Johnson, Jack Cassidy as Damon Runyon and Lloyd Gough as Walter Winchell. José Ferrer, Celeste Holm, Ronee Blakley, John Marley, June Havoc, Lloyd Nolan and George Plimpton also costar.