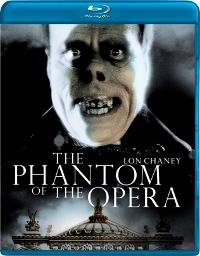 Lon Chaney became a star for The Hunchback of Notre Dame (1923) but it was the 1925 Phantom of the Opera (Image) that confirmed his stardom and his talent.
The first version of many versions of the Gaston Leroux novel is still considered the definitive, thanks to Chaney's committed performance (right down to enduring painful make-up that he himself designed to give him a death's head look and a horrifying rictus grin) and magnificent sets for the grand Paris Opera and the underground labyrinth of tunnels and canals and secret rooms. This lavishly executed production threatens to slip into hoary melodrama with a magnificent backdrop but for Chaney's performance.
Chaney, however, creates both a monstrous and a tortured villain, part shunned mastermind, part proto-Frankenstein monster smitten with a young beauty His backstory is left blank, which allows the viewers to fill in their own from his aristocratic bearing, his maniacal pounding on a pipe organ in his underground dungeon lair and his obsessive pursuit of the comely young understudy Christine (Mary Philbin), whose stardom he engineers via secret coaching and threats to the opera company owners. Chaney is both tender and terrible, wooing Christine from behind a mask, a mystery lover who dedicates his heart and soul to her success, then turns vindictive when she spurns him.