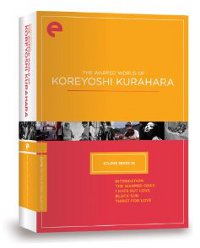 The Warped World Of Koreyoshi Kurahara (Eclipse Series 28) (Criterion) is an introduction to another of the lively directors who flourished making crime thrillers, youth dramas and other genre films as new generation of young, ambitious filmmakers hit the studios in the late 1950s. This set, from Criterion's budget-minded line Eclipse, presents five jumped-up pictures made for Nikkatsu through the 1960s by Koreyoshi Kurahara, a contemporary of Seijun Suzuki and Kinju Fukasauku working in the same popular genres.
Intimidation (1959), a tightly-wound crime thriller about a predatory bank manager, a meek, submissive assistant and a blackmail scheme, serves as kind of a prologue to the films to come. It opens on a train barreling through the screen to deposit a flamboyant urban gangster in a sleepy rural town but the rest of the film slows to a more classically controlled piece of filmmaking, a quietly oppressive psychological drama with the obsessive dementia of a Patricia Highsmith novel. There's a murder, though one of opportunity rather than premeditation, and a superbly-executed one-man heist, but ultimately it isn't about money, it's about vengeance and control, and that makes things a lot more unpredictable. It's a well-tempered piece of genre filmmaking — the corruption and mind-games all play out behind the façade of social decorum — and Kurahara shows he has the chops, but it's with the subsequent films that he breaks out of conventions and into unpredictable territory.
With The Warped Ones (1960), his world has become completely unstable. His contribution to the juvenile delinquent genre (called the "Sun Tribe" films in Japan) is more like a piece of jazz than a traditional story, like a Japanese "Breathless" with a sociopath at the center. Tamio Kawaji's jazz-loving Akira is an angry and reckless petty thief who walks out of juvenile detention with a new partner in crime (Eiji Gô) and a contempt and arrogance that has built up during his incarceration. Reuniting with his streetwalker partner Yuki (Yuko Chishiro), the bait in most of his rip-offs, he's ready to take it out on whoever is in his path with an aggressiveness both feral and childlike, if you can imagine such a thing. He starts by raping the girlfriend of the journalist who got him sent away and, just because he can, continues a campaign of intimidation and harassment whenever he gets bored. Akira is not a rebel without a cause, he's id unleashed, bouncing from one brutal antic to another without a glimmer of self-awareness or moral twinge. Kurahara directs it like a series of riffs and meandering solos, as when he follows the characters on drive to the beach as if it were an extended improvisation. His camerawork is alternately ambitious and showy, like the crab dolly that arcs around them in the jazz club or the small crane that swoops around to pick out details that would normally be edited into a montage, and nervous and jazzed up via handheld camerawork capturing the on the run. He rides Akira's feral drive right to the end, where a twisted bit a dark humor leaves us with characters more self-absorbed and undisciplined than ever. Call this Kurahara's story of cruel youth.
Kawaji and Chishiro play variations on the same characters (they even have the same names, Akira and Yuki), in Black Sun (1964). This Akira is again a jazz-loving drop-out but far more likable and benevolent. When a black American G.I. (Chico Roland, also in The Warped Ones) with a machine gun and a bullet wound takes refuge from the MPs (he's wanted for murder), Akira equates him with the jazz legends adorning to walls of his squat in bombed-out church. Chishiro's Yuki is again a hooker, but this she has a part-time gig translating for the Americans hunting the wounded G.I. after the body of another soldier is found floating in the fetid canal. That pretty much captures the state of decay of this post-war world. The film opens and ends in an open dump behind a nuclear plant, where scavengers burn junk in open fires, and takes a trip to a sea sick with garbage and pollution. Kurahara enhances the alienation by exaggerating the distortions of his anamorphic widescreen lenses, which bend and squeeze everything that isn't dead center in the screen, and directing Roland to deliver his lines as breathless gasps and panicked screams, almost incomprehensible exclamations of desperation. An original score by Max Roach, full of flights of free jazz improvisations and dissonant drums, creates an anxious accompaniment to the culture clash of this anti-buddy film.
The characters of these films aren't as wound to the breaking point or furiously driven as Seijun Suzuki's fractured sixties films, or as desperate and violent as Kinju Fukasauku's. Apart from the corrupt ones of the classically noir-ish "Intimidation," they are simply disconnected from a culture so debased and apathetic that they drop out into their own world, and Kurahara's nervous, driving direction gives it a momentum that seems to unravel rather than unfold, rolling out of their control.
The set also features the romantic comedy road movie I Hate But Love (1962), the only color film in the collection, and Thirst for Love (1967), an erotic psychological drama based on a novel by Yukio Michima, both starring Ruriko Asaoka, Nikkatsu's biggest female star.
There are no supplements to the five-disc set, which comes in the traditional Eclipse packaging: five separate thinpack cases in a paperboard sleeve. Each case features a brief essay by Chuck Stephens, which you can read on the Criterion website here.