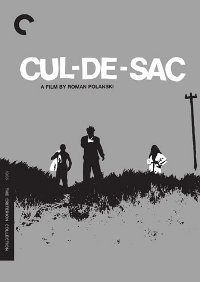 Roman Polanski once cited Cul-De-Sac (Criterion), a sly little character piece set in an isolated medieval castle on the barren British coast, as his personal favorite of his films, and the closest he came to creating "pure cinema." It's also been the hardest of Polanski's films to see, at least in acceptable (and legitimate) editions. Criterion's release is the first official home video release in the U.S. and it is a superb disc and a welcome debut of a brilliant black comedy and a wicked little psychodrama.
It's only Polanski's second English language film, though he wrote the original script with Gerard Brach before making "Repulsion" and then rewrote it to fit the castle location. While it's not as demented as Repulsion or as engaging and enraging as Chinatown, this is as assured and as perfectly crafted as anything in Polanski's career, a miniature where every facet offers multiple reflections. The dialogue is as assured at the filmmaking, and is both right and proper and weirdly warped around the situations, thanks to Donald Pleasance (as the owner of the castle) delivering his lines with twitchy cadences and nervous pauses Françoise Dorléac (as his young French wife) and Lionel Stander (as an American thug crashing their private party while hiding out from a robbery gone wrong) bringing in their idiosyncratic approach to the English language.
Essentially a three-hander (with guests—not always wanted—periodically dropping by), it's described in the liner notes as a "mental ménage-a-trois," which I suppose is as good a description of the shifting dynamics of power and submission as any. There's no real sexual tension (let alone sex) within this group but plenty of playing games and roles, from Pleasance donning a nightgown and eye-shadow in pre-invasion bedroom play with his wife to Stander posing as their surly servant when guests arrive.
Stander's gravel-voiced gangster Dickie is just holing up with his hostages (who are trapped as much by their isolated home, cut off from the world by the tides every night, as by the gun-wielding thug) while he waits for the unseen boss Katelbach to extricate him and his partner (Jack MacGowran), slowly dying of a gunshot wound, from their otherwise doomed predicament. Polanski was a fan of Beckett and Pinter and his script owes more to their theater of the absurd (reconceived in decidedly cinematic terms) than the genre films that "Cul-De-Sac" builds on and then spins its own eccentric orbit around.
Both the DVD and Blu-ray include a 1967 portrait of Polanski and his films made for the British series "The Movies," anchored by an interview with Polanski, and the 2003 featurette "Two Gangsters and an Island," produced by Blue Underground for the British DVD release of the film. The latter production features interviews with Polanski, producer Gene Gutowski, cinematographer Gil Taylor, production designer Voytek and actor William Frankyl, and they all pretty much confirm that it was an uncomfortable shoot (the location really did turn into an island every day). The accompanying booklet features an original essay by David Thompson, which you can also read on the Criterion website here.
Cross published on Videodrone, MSN's home video column