The works of Stanley Kubrick never failed to generate debate and, at times, deep-seeded controversy when they arrived in theaters, so it's no surprise that they have generated almost as much debate (though for entirely different reasons) in their home video releases.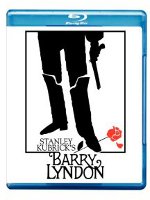 Kubrick was a perfectionist in all areas of his filmmaking, including presentation, the one arena over which he had very little control. He could and did set the desired specifications for proper projection but couldn't enforce them or, given the realities of projection standards in the U.S. and elsewhere, even always count on theaters being conducive to following them. His preferred aspect ratio for his post-2001 releases was 1.66:1, a standard format in Europe but not in the U.S., where most theaters routinely set non-anamorphic films at the 1.85:1 standard.
While Kubrick was alive, he insisted that the DVD releases of his films be formatted at his preferred specifications. Even so, Warner Bros. was raked over the coals for their initial DVD release of his films, which simply reused old laserdisc transfers rather than freshly-mastered high-definition editions. Now there is a hue and cry from a small but vocal sector of the critical community over the Blu-ray release of Barry Lyndon. And the debate, not surprisingly, has gotten very passionate and a little personal.
The whole thing was kicked off when Jeffrey Wells at Hollywood Elsewhere (always good for explosions of indignation) blew a gasket over the specs on the Blu-ray cover, which listed the aspect ratio at 1.85:1: "storm the barricades!" Glenn Kenny, on his blog Some Came Running, tried to slow the rush to judgment by looking at the disc itself, which he found at first glance to be 1:66:1.