Henri-Georges Clouzot's Inferno (Flicker Alley)
Serge Bromberg is one of the most dedicated film preservationists in the world today. Henri-Georges Clouzot's Inferno, his documentary on the legendary unfinished film, represents a different kind of detective work but the same spirit of discovery, preservation and presentation of cinema saved from neglect.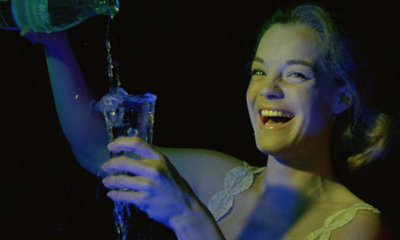 In 1964, French director Henri-George Clouzot—a man at the top of his game and his fame for such films as The Wages of Fear, Diabolique and La vérité (though largely forgotten today, it was an Oscar nominee and a Golden Globe winner for Best Foreign Language Film)—was given carte-blanche by Columbia Pictures to make a dream project. His film, a portrait of obsessive jealousy in a husband (Sergio Reggiani) who becomes insanely paranoid and maniacally controlling of his beautiful young wife (Romy Schneider, then one of the most luminous stars in Europe), collapsed in the director's own obsessive camera tests and experiments, increasingly demanding direction and endless reshoots. He pushed the production overbudget and over schedule, drove his leading man to quit in exasperation and became distracted in exacting minutiae at the cost of the big picture. When a heart attack leveled him, the producers to pull the plug. It's like Hearts of Darkness as reconceived by Werner Herzog as an epic failure: one man's vision and creative ambition fueled by obsession and growing megalomania and laid low by the limits of physical reality, production economics and the limits of his own body.
Serge Bromberg's documentary (co-directed with Ruxandra Medrea Annonier) is a peek into a film that never was through a rich collection of rushes and camera tests, unseen and forgotten for decades until Bromberg tracked it down and negotiated access to the preserved and protected reels. The footage (some of it in raw, undeveloped form until Bromberg's involvement) reveals an artist searching for new expressive ways to explore jealousy and madness on film, but also a relentlessly ambitious artist looking for new ways to express himself. When Clouzot began production, it had been four years since he had made a film and the freewheeling directors of nouvelle vague had become the young turks of film art in the meantime. He had something to prove to them, to the critics and to the public. And possibly to himself.
This isn't a reconstruction of Clouzot's Inferno might have been so much as a privileged glimpse at the fragments of a visionary's unformed art found in reel upon reel of color and lighting tests and experimental techniques, along with a few edited sequences and recreations of the dialogue by young actors (the soundtrack, which was to be equally experimental, was almost entirely lost). We don't know exactly what these crazy, distorted, color-drenched images were meant for in the context of the film, or even which of the shots he considered failed experiments and which he planned to use, but they are stunning and strange and otherworldly, a pleasure to view in and of themselves.
But along with this unrealized film is the story of Clouzot's own descent into obsession and madness, an almost paralyzing drive to exert complete control over the smallest detail while the production itself snowballs out of control. Though stars Reggiani and Schneider had passed away by the time Bromberg began his project, other collaborators (among them Costa-Gavras, Clouzot's assistant director; the great cinematographer William Lubtchansky, then a young camera operator; Eric Duvivier, in charge of special effects experiments; co-star Catherine Allégret; and many others) tell their stories and experiences. We get a sense of both the eccentric Clouzot and unraveling production around him, yet the emerging portrait of the director is much like the portrait of the unfinished film itself, more impressionistic than explanatory, more suggestive than sure. We can draw our own conclusions as to what happened to Clouzot and why, but all we can know for sure is where those impulses took him creatively in the images he completed before it all fell apart.
It's impossible to predict what kind of film would have emerged from the grab bag of footage here; so much was unshot when the production was shut down and Clouzot was changing his mind and reworking scenes up to the end. Clearly it would have been very different from Claude Chabrol's L'enfer, his much more stylistically conventional (though distinctively Chabrol-ian) take on Clouzot's screenplay made in 1994. But just how the elegantly-shot black-and-white scenes of the unfolding story would be married to the blasts of expressionistic color footage is a mystery that died with Clouzot. Bromberg preserves the mystery of potential in his direction. He doesn't attempt to reconstruct, only reveal the play with imagery, the experiments in expression, the visual ideas at play and the obsessive drive to keep exploring, experimenting, perfecting and controlling every element. The potential remains a tantalizing possibility of a film that never was and, in retrospect, could probably never had been.
Henri-George Clouzot's Inferno is the first contemporary feature released by Flicker Alley, the American distributor dedicated to preserving and presenting rarities and masterpieces of silent cinema in superb editions; a true labor of love in an environment where classic cinema is an increasingly hard sell on home video. This release is, however, consistent with the company's dedication to celebrating classic cinema, which may be why Serge Bromberg, whose Lobster Films is one of the most dedicated archives of silent and classic cinema in the world, chose this boutique label for the film's American release. The trust was well placed: Flicker Alley releases the film in a combo pack with both Blu-ray and DVD editions, both beautifully presenting the luscious imagery of Clouzot's footage.
The supplements include a nine-minute introduction by director Serge Bromberg, which begins as an animated reflection on the project and its origins, takes time out to pitch film preservation (complete with an invitation for viewers to contact him directly with any film discoveries in their attics and basements) and then segues into the story of convincing Clouzot's widow to allow him access to the footage. And Bromberg is nothing if not a storytelling.
Exclusive to the Blu-ray disc is a 57-minute documentary "They Saw Inferno" (un film de Serge Bromberg et Pauline Richard). The more linear production serves as a companion piece, offering a more in-depth look at the day-to-day of the production with interviews and production footage Bromberg was not able to include in the feature film. All of the supplements, like the feature itself, are in French with English subtitles.
Available on Amazon here:
Henri-Georges Clouzot's Inferno [Blu-ray+DVD]