A batch of discs from the MGM Limited Edition Collection, a MOD (manufacture-on-demand) line of releases sold exclusively via the web, was manufactured with errors in the image. In particular scenes with dark objects or hard lines set against a bright or neutral backgrounds, a halo effect, or ghosting, can be seen in the radiating out from the image (see frame captures below for an example). The problem, which has since corrected by Allied Vaughn (the company partnering with Twentieth Century Fox Home Entertainment in the enterprise), was the result of a faulty transcoder used in the replication process, according to a spokesperson from Fox.
The problems appear to be limited to discs replicated during a particular window of time—the discs where I noticed the issue all arrived in early April—and a particular machine. And they are most apparent on black-and-white films, though the Africa scenes of How I Won The War, with soldiers set against the desert or the clear sky, are also quite noticeable, especially on high definition widescreen monitors.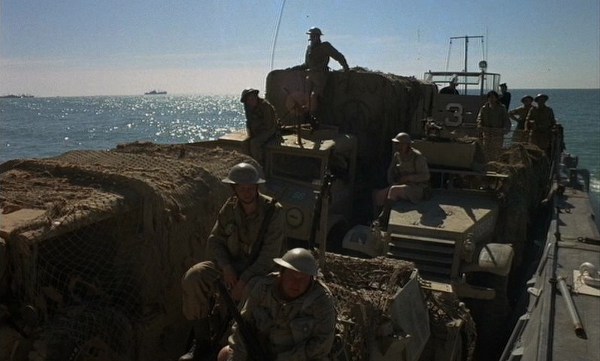 The issue curiously went unreported and most DVD reviewers did not notice or comment upon it. I first noticed the issue on The Captive City, a black-and-white film noir with some stark, simple compositions—the haloing jumped out at me in every close shot of John Forsythe against a blank wall or an empty sky—and after confirming the issue on multiple players and monitors, I contacted a few colleagues and searched the web to see if anyone else had found the same issues. At the time, only one post on Home Theater Forum found the same ghosting on their discs and provided screen caps for illustration (thanks to the every vigilant DVD Savant Glenn Erickson for alerting me to that post). A few reviewers have since made similar observations.