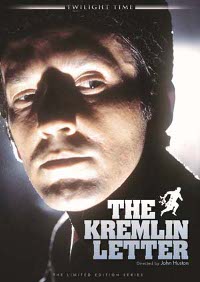 The DVD debut of John Huston's sprawling, globetrotting 1970 espionage thriller The Kremlin Letter is also the debut release of Twilight Time, a new boutique DVD label (that's actual pressed DVDs, not DVD-R or MOD) featuring limited run releases of select titles from the 20th Century Fox library. The creation of Warner Bros. veteran Brian Jamieson and filmmaker/music restoration specialist Nick Redman, the label is initially slated to release one disc a month (and later perhaps more), all from the 20th Century Fox catalogue, all from Fox digital masters, all in limited edition runs of 3,000 units.
"All our releases will be properly manufactured DVD's and Blu-Rays – we were not interested in the DVD-R's, as we feel they do an injustice to the titles in the long run," explains Brian Jamieson. "While I'm sure collectors will find they fill a void in their collections, but we wanted to deliver a quality product, something that meets our own expectations and something we could be proud of. We love the old Fox film classics, especially from the 50's."
John Huston has been accused of cynicism in his films but The Kremlin Letter, a complicated plot of Cold War spy games is the most cold-blooded portrait of an mercenary world he's ever presented. Charisma-challenged Patrick O'Neal is the ostensible leading man here, playing a career Navy officer coerced into joining a covert private team and go behind the Iron Curtain to retrieve a diplomatically dangerous letter, but in the scheme of things he's just another player in a big, messy, tangled ensemble piece. Richard Boone is the standout as a hearty bear of an intelligence veteran who mentors O'Neal in the insidious games played in the name of counter-intelligence, and George Sanders (first seen in drag playing piano in a gay lounge), Nigel Green (a pimp in Mexico), Dean Jagger (hiding out a country vicar) and Max Von Sydow (as a deadly Soviet assassin who, haunted by his past, may be the most human figure in the bunch) fill out the deadly rogues gallery.
The colorful figures and their elaborate schemes (involving extortion, seduction, prostitution and the drug trade) is like Mission: Impossible in the unforgiving culture of international espionage of John Le Carre's double agents and plots-within-plots. This is not a world where trust gets you anywhere and even the so-called good guys resort to subterfuge and manipulation in dealing with their own people. The personal endgames drive the international agenda and the players are expendable pieces in the elaborate international chess match.
This was no work-for-hire project but a production he initiated because he thought it "had all the makings of a success… all those qualities that were just coming into fashion in 1970: violence, lurid sex, drugs." And he pegs at least part of the reason for its failure when he revisits it in his autobiography: "in retrospect it was perhaps overcomplicated." But it's also filled with amoral and corrupt characters in the game for profit, not patriotism, and even the more idealistic players are forced to debase themselves in the line of duty. It hasn't so much been redeemed with time as recognized as quintessential Huston: a motley gang of eccentrics and specialists, a quest in search of a certain grail, a culture of betrayal where human life as a disposable commodity, and a perfectly Hustonian twist that makes all their sacrifices meaningless.
The CinemaScope film looks quite good clean with strong, not overly-bright color (much of the film takes place in the gloom of a Moscow winter, with Helsinki standing in for Russia). Twilight Time partner Nick Redman was also instrumental in Twentieth Century Fox's series of limited edition soundtracks and this release continues that legacy of honoring film music by spotlighting Robert Drasnin's score in a music-only audio option, the sole DVD supplement.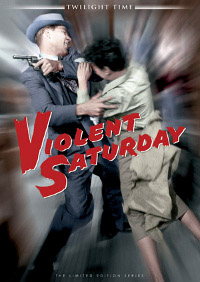 The company's second release, Richard Fleischer's daylight heist thriller Violent Saturday (1955), is not technically a film noir, but it has a toughness, an edge of violence and a distinctively-drawn crew of criminal professionals that drops in a distinctive subgenre of criminal violence in rural settings. In full color and widescreen, it takes place almost entirely in daylight and intercuts the crime story with little melodramas that play out among the citizens of the Arizona mining town, a southwest Peyton Place that is not nearly as innocent as it appears on the surface.
Top-billed Victor Mature plays the loving, loyal family man and stalwart company man, but the rest of the townsfolk are compromised, corrupted or simply weak, leaving the beefy Mature to play hero in the final act. Stephen McNally heads the criminal crew, casing the small town bank while his cohorts arrive by train. Lee Marvin makes an impression when he stomps the hand of little kid who had the bad luck to jostle him on the street and J. Carrol Naish is the cautious veteran who tries to keep the garrulous Marvin in line.
The odd hybrid of small town soap opera and brutal crime thriller builds slowly—maybe a little too slowly for some—but director Richard Fleischer does an impressive job of weaving the stories and character around each other visually, with characters criss-crossing through scenes and Fleischer panning his camera to across the vast canvas to pick out threads of others stories. This is Fleischer's first film for Fox and he meets the house CinemaScope style—handsome, roomy sets, strong color, open spaces and long, fluid takes (the better to drink in the widescreen images)—with careful staging and frames filled with little dramas, but he also puts an edge to the stories that play out in the glossy spaces. His direction is measured and meticulous and his pacing nearly flawless as he weaves their stories tighter together until they converge, criminals and bystanders all, at the high noon heist.
And then the film gets downright brutal when Mature, taken hostage along with an Amish family (with Ernest Borgnine as the moral patriarch), takes a stand against the robbers, who have already left a couple of victims in their wake. The stalwart and stiff Mature feels miscast amidst the rogues gallery of killers, corrupt citizens and compromised characters but his physicality gives the violent showdown a believable edge of down-to-earth strength and mortality. And Fleischer's imagery is punctuated with grotesque grace notes in the otherwise elegant imagery, from bank patrons doubling up in death throes when the trigger-happy robbers fire on the bystanders to the Amish family trussed and taped and lined up like victims of some perverse torture.
Unlike The Kremlin Letter, Violent Saturday is presented in non-anamorphic widescreen, which means that the 2.35:1 CinemaScope image loses sharpness and clarity when blown-up to fill widescreen sets. Twilight Time is restricted by the masters provided by 20th Century Fox. "95% of all release titles will be anamorphic or widescreen, working from, in most cases, High Definition transfers," Jamieson assured me. They chose to release Violent Saturday despite the fact that only a 4×3 master existed because: "Both Nick and I have a real penchant for this film and we figure there were a lot of other folk out there who would agree. So this was a limitation, but we figured better to have it this way than not at all."
That limitation aside, it is an excellent master, with strong color and clarity, and it holds up when zoomed out to fill a widescreen monitor. The stereo soundtrack is good and Hugo Freidhofer's score is available as an isolated audio track.
Both discs are presented with simple but handsome and distinctive DVD cover art and come with illustrated 8-page booklets, each with a general but well-written essay by Julie Kirgo.
The films are currently available exclusively through Screen Archives, a soundtrack collector site dedicated to specialty soundtracks and select DVD and MOD titles.
Here's a calendar of upcoming releases from Twilight Time:
Fate Is The Hunter – Tuesday May 10
Woman Obsessed – Tuesday June 14
The Egyptian (on DVD and Blu-ray) – Tuesday July 12
The Flim Flam Man – Tuesday August 9
My Cousin Rachel – Tuesday September 13
Stagecoach (1966) – Tuesday October 11