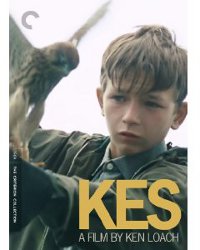 The story of a boy and his bird, Kes is something of a small cinematic treasure in Britain.
Set and shot in the North of England and cast overwhelming with non-professional locals from the area, it cast its lens on the dreary life and hopeless future of a scrawny, fatherless teenager, Billy Casper (David Bradley), grinding out his last days in a miserable public school where discipline and regimentation trumps education and encouragement. Bored and bullied (by students, teachers and his bitter older brother), this curious, restless boy is inspired to capture and train a young kestrel that he captures from a nest in a nearby ruin, all that's left from a medieval castle in a nearby field, and the film soars with Billy's joy and exhilaration as he trains and exercises the young kestrel.
Though considered uncommercial by British distributors, it was a surprise hit embraced by the public when it was finally released in 1970 and, more recently, it was voted as one of the ten greatest British films of all time in a poll conducted by the BFI.
Kes is second theatrical feature by director Ken Loach, who came out of British television as a socially and politically committed filmmaker who now as then focuses his lens on the poor, the working class and the disenfranchised. In this film, based on the novel "A Kestrel For A Knave" by Barry Hines, he immerses us in the culture of a coal town where the kids have little hope of escape. Billy swears that he will not go "into the pits" like his brother but he has no illusions that he'll end up in some dead end job he hates. Yet for all the misery around Billy, from his chilly home and the bed he shares with his bullying older brother to the tyrant of a principal who gives out corporal punishments like its part of the daily schedule, and the often impenetrable Yorkshire accents and dialects of the soundtrack, Kes is a lovely and touching film. Loach appreciates the cheeky wit and energy of its scruffy, scrappy hero and, in a classroom scene where he's roused to tell this classmates about training the bird, he brings Billy  to life with an outpouring of excitement and love.