"Daughters of Darkness" (Blue Underground)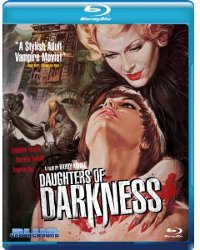 "Every woman would sell her soul to stay so young," remarks smarmy, troubled Stefan (John Karlen) to his newlywed wife Valerie (Danielle Ouimet). He's referring to the impeccably poised Countess Bathory (Delphine Seyrig), who sweeps into the off-season luxury hotel they previously had all to themselves. Elegant and ageless, looking like some out-of-time aristocrat from Weimar cabaret high society, she could be a soul sister to Marlene Dietrich in her prime in perfectly coiffed hair and a deep red gown that radiates both opulence and taste. Stefan doesn't know how right he is.
Poised on the shadowy margins between art cinema and sexploitation, Harry Kümel's elegant and sexy vampire film draws on the legend of Hungary's Countess Elizabeth Bathory, the notorious "Blood Queen" accused of murdering innocent maidens to bathe in their blood, and mixes it with the lesbian vampire story "Carmilla" and the new freedoms of seventies genre cinema ushered in by the lurid Italian thrillers and Hammer's sex-and-blood horrors of the late sixties and early seventies. Delphine Seyrig, famed as a frosty beauty of art cinema (she appeared here between making The Milky Way and The Discreet Charm for the Bourgeoisie for Luis Bunuel), brings dignity and cool grace to the film with her imperious presence, and Kümel places this jewel of an actress in a perfectly elegant setting: a grand but empty hotel, the ominous mood of the Belgian coast in winter, the handsome medieval architecture of Bruges, where a day-trip brings the newlyweds face-to-face with another in a string of murdered women, all young, beautiful and drained of blood.