The Quintessential Guy Maddin! 5 Films From The Heart Of Winnipeg (Zeitgeist)
Canadian maverick Guy Maddin makes films like no one else: surreal studies in repression and sexual hysteria with the textures of silent cinema and the scuffed-up surfaces of neglected cinematic ephemera unearthed. In the 22 years since first feature, Tales from the Gimli Hospital (1988), he continued to make his films his way: Obscure, lush, and antiquarian, made on tiny budgets and released to tiny audiences. Zeitgeist has been there from the beginning, releasing five his ten features in theaters and on DVD (accompanied by many of the short films he made between features). There's nothing new on this set (not even new masters of the old films; the old discs are simply repackaged) but it does offer a quick and efficient way of collecting a big chunk of Maddin's filmography, and an excuse to roll back through his career.
Witness his sophomore feature Archangel (1990), a surreal silent movie melodrama of love, war, and amnesia for the sound era: an absurdist silent WWI epic that never was. Set in WWI Russia by way of claustrophobic sets transformed into Maddin's dreamland imagery, this story of a one-legged soldier (Maddin regular Kyle McCulloch) caught in a romantic triangle between his lovesick landlady and a married nurse (Kathy Marykuca) who resembles his dead lover is less a parody of silent cinema than a loving crackpot tribute. Shot in often soft focus B&W, artificially aged to look like a survivor of yesteryear, and filled with absurd imagery (bunny rabbits leap into the trench in the midst of battle) and unfathomable twists, this is a farce with a tragic dimension and a singular vision that defies categorization and description.
Careful (1992), his third feature and first color film, is an utterly demented melodrama tale of the repressed residents of a small alpine village who live in virtual silence for fear that slightest sound could trigger an avalanche (which only exaggerates their suppressed desires), and he returns to color for Twilight of the Ice Nymphs (1997), a story of sex and obsession in a hallucinatory forest lit by the golden hues of a perpetual sunset. A mysterious political prisoner returns home to his ostrich farm in the storybook land of Madragora and falls in love with two women, exotic temptress Pascale Bussieres and woodland beauty Alice Krige, both under the sway of a sinister hypnotist out of some expressionist German silent. It's an Aubrey Beardsley painting come to life by way of Maddin's unique rhythms, rich textures, and surreal stories, and peopled by his best cast to date: Shelley Duvall co-stars as the hero's sister and Frank Gorshin is her tetchy handyman. His obsessed hero remains unidentified in the credits, but he's since been identified as the body of Nigel Whitmey and the voice of Ross McMillan.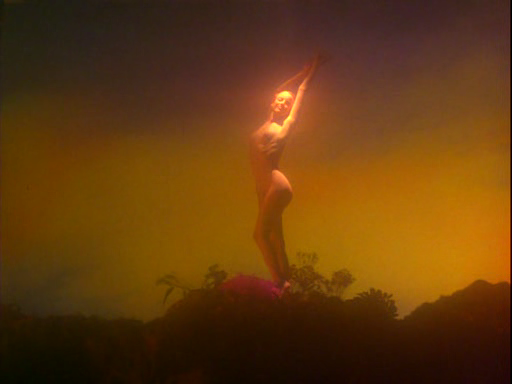 Dracula: Pages from a Virgin's Diary (2003) – Surreal in every classical sense of the term, Guy Maddin's aggressively uncommercial and expressionist silent horror spectacle adapts the Winnipeg Opera Ballet interpretation of Bram Stoker's novel, but is in no way a "dance film." Rather Maddin marries the expressive quality of dance and movement with his silent-movie inspired style (enhanced by his typically iconoclastic decision to shoot on Super-8 film, and then enhance the grain of the image in the transfer to digital) for a bold and slyly satirical critique of Victorian morality and repression and fear of the exotic. In process, he delivers the most startlingly original and creative reading of the novel ever put to film. The traditional virgin in versions of this story is Lucy, but diary belongs to Jonathan Harker, and the title couldn't be more appropriate in a tale of sex, repression, and obsession, with Dracula as a simultaneously corrupting and liberating figure and Van Helsing as a force of repression and protection of white supremacy (the casting of an Asian dancer to play gives the threat of the "foreign" an added exotic dimension). Color bleeds through the grainy B&W like a lifeblood threatening to invade the world of gray that the self-appointed arbiters of morality will kill to protect. Amidst this frenzy of moral hysteria, the sexual awakening of Lucy and the naïve Jonathan is surprisingly tender against the hypocrisy of the Victorian watchdogs. If it's not the greatest adaptation of the novel, Dracula: Pages From a Virgin's Diary remains the most fascinating and beautiful, and to date my favorite Maddin feature.
Cowards Bend the Knee (2004) – Oh, the joy, joy, joy of seeing something new! As strange and wonderful a film as ever made by Guy Maddin, this murky melodrama about an ice hockey hero (named, but not played by, Guy Maddin), a beauty salon femme fatale, back-room abortions, and a pair of severed blue hands pretty much defies description. The silent movie, shot on bleary low-fidelity B&W film (and roughed up and scuffed up to give it an aged and battered look), was originally made as a series of peephole films for an art instillation. Maddin re-edited it as a linear feature, not that it actually feels all the linear. This twisted soap opera is a miniature, barely more than an hour long and shot on sets even more unnervingly claustrophobic than usual for Maddin, but it bubbles over with lust, guilt, and betrayal, not to mention weirdness. The film can be seen as a complete feature or viewed as 10 individual short films.
Note Maddin's preference for the old Hollywood aspect ratio of 4:3 in all of the films except for Dracula, which is, disappointingly, the same non-anamorphic widescreen presentation of the original DVD release; you have to "zoom" the picture to fill a widescreen monitor correctly (with an accompanying loss in visual integrity). The rest of the features are in their classic square aspect ratios.
The set features six shorts by Maddin and the highlight of the shorts is Heart of the World (2000), a mock Soviet sci-fi adventure condensed into a breathless six minute short that seems to burst off the screen. Maddin described it as "world's first subliminal melodrama." I call it Maddin redux, a distillation of his themes (yes, it's another love triangle) and his love of silent movie textures and antiquarian imagery. Commissioned for the 25th anniversary of the Toronto Film Festival, it landed on numerous 2000 Best of the Year lists. Odilon Redon (aka Eyes Like a Strange Balloon") and Love-Chaunt Workbooks (four short film blueprints from a lost Maddin feature plus audition reels) complete the shorts line-up.
Maddin provides commentary on each of the five features (in collaboration with screenwriter George Toles on a couple of them) and the supplements include Noam Gonick's 1997 documentary Waiting For Twilight, which is largely about the shooting of Twilight of the Ice Nymphs and is narrated by Tom Waits. Four discs in a standard case with hinged trays.
The Films of Rita Hayworth (Sony)
The latest box set from the Film Foundation's "The Collector's Choice" line of classic releases is the first to focus on a performer. It's also the least essential of the offerings to date. The former Margarita Carmen Cansino, a dancer and model who worked her way up from bit parts and big screen window dressing, is more icon than actress. And while she appeared in a handful of timeless classics—think Only Angels Have Wings and The Lady From Shanghai, with a little Blood and Sand and Separate Tables tossed in—she was a supporting player three of those four and none of them are included in this set.
The five films here represent Hayworth the glamorous star, the films that give her top billing, starting with her first headlining turn as the girl next door nightclub dancer from Brooklyn who blossoms into a sexy screen siren after winning a photo contest in Cover Girl (1944). It's hardly the best musical of its time but she's supported by Gene Kelly (himself just getting started in Hollywood) and Phil Silvers and original songs by Jerome Kern and Ira Gershwin as well as gorgeous Technicolor photography.
Her most iconic role as a silver screen siren is Gilda (1946), the flirtatious bombshell who mercilessly (and sadistically) teases the bodyguard (tough guy Glenn Ford) of her crippled sugar daddy husband (George Macready). Director Charles Vidor is no stylist—he misses every opportunity at atmosphere and stylization and mishandles the young Glenn Ford something terrible as he tries to play the not-too-bright American tough guy hustling his way through South America—but the film has its moments. Hayworth's sudden yet glorious entrance is pure Hollywood starmaking, a perfectly lit close-up as she whips her head into frame, her hair lashing back and revealing her bright face and wide, mischievous grin. She's a girl playing a game that she still enjoys, namely being married to a sugar daddy, and she plays it well, slinking around the dance floor, laughing with a new pretty boy on her arm, to make former beau Ford squirm with her sexual indelicacies and affairs. She's a sex kitten with attitude and a suggestion of claws. Ford doesn't get any better as his character develops but there's something perverse in the way he turns completely vicious and marries Gilda to "punish" her for her sins (cheating on husband/boss George Macready or not being with Ford?). Given all this sexual warfare, the happily ever after is pure fantasy: After what these two have done to each other, how can they come back together?
Both of these films have been on DVD before but are remastered for this set, which is filled out with the DVD debuts of Tonight and Every Night (1945), Miss Sadie Thompson (1953) and Salome (1953). Film critic and historian Richard Schickel contributes an observant commentary track for Gilda with a relaxed ease and there are video introductions to four of the films: Director Baz Luhrmann on Cover Girl, Martin Scorsese and Baz Lurhmann on Gilda and actress Patricia Clarkson on Tonight and Every Night and Miss Sadie Thompson.
Cross-published with seanax.com.
Available at Amazon:
The Quintessential Guy Maddin! 5 Films from the Heart of Winnipeg

The Films of Rita Hayworth