Humphrey Bogart: The Essential Collection (Warner)
The Maltese Falcon Blu-ray (Warner)
The Treasure of the Sierra Madre Blu-ray
(Warner)
Humphrey Bogart was the first Hollywood star I embraced. Watching him hold down the center of Casablanca with a pose of populist existentialism covering his wounded romanticism ("Where were you last night?" "That's so long ago, I don't remember." "Will I see you tonight?" "I never make plans that far ahead."), I thought he was the coolest cat I'd ever seen on the screen. There's not a lot new to say about the Bogie, and not much I can add to Dave Kehr's excellent piece in the New York Times on the icon, the actor and the movie star in relation to the great new box set Humphrey Bogart: The Essential Collection (Warner). I received the set late, just after returning from Vancouver and nursing the end days of a pesky head cold, so I've not had as much time and energy as I would have liked to dive into the set.
However, I can still offer a tour of the selections in the set through notes and reviews I wrote on earlier viewings of the films and coverage of their previous release on DVD. Yes, each of the 24 films in the set have been previously available on DVD, both individually and in various box set incarnations, and the supplements from those excellent Warner volumes are ported over. But the remarkable efficiency of this box set (12 two-sided flipper discs in six thinpak cases, plus a couple of extras, more on those later) and the amazing price tag ($100 retail, less with inevitable markdowns) brings the price per film to under $4 apiece.
The Petrified Forest (1936) was not Humphrey Bogart's film debut—he'd done bit parts and small supporting parts in a few films (including the great pre-code Three on a Match, not on this set)—but it marks his first significant screen appearance and, essentially, his introduction to movie audiences. Adapted from Robert E. Sherwood's Broadway hit and directed by Archie Mayo, it revolves around a poetry-spouting writer (Leslie Howard) and a desert waif (Bette Davis) held hostage in a rundown Arizona diner. Bogart reprises his stage role as fugitive killer Duke Mantee, brought to the film at the insistence of Howard. The production is rather stagy and the high-falutin' dialogue spouted by Howard makes him sound even wimpier than he's supposed to, but Bogart is great in an early role, not yet his confident, insolently charming self but a riveting mad dog on the verge of psychotic explosion.
Bogie was signed as a Warner contract player and was kept busy playing thugs, heavies and tough guy second fiddle in films like Kid Galahad (1937, with Edward G. Robinson), San Quentin (1937, Pat O'Brien), The Amazing Dr. Clitterhouse (1938, Robinson), Invisible Stripes (1939, George Raft), Brother Orchid (1940, again Robinson) and Virginia City (1940, an Errol Flynn western). But there are some exceptions, such as a pair of films in support of Bette Davis. Marked Woman (1937), a tough social drama in the two-fisted Warner style (inspired by the real-life account of prostitutes whose testimony put gangster Lucky Luciano behind bar) stars Davis plays a bar girl who defies the mob and Bogart as a crusading District Attorney, a rare thirties-era turn as a good guy. He's farther down the cast list in the big budget melodrama Dark Victory (1939), playing the horse trainer to spoiled heiress Davis, who changes her decadent ways when she's diagnosed with a fatal brain tumor. Black Legion (1937) is another wild card of a social drama with Bogart in the lead, playing a frustrated factory worker who joins a white supremacist group. The Roaring Twenties (1939) is more indicative of the role Bogie filling for the studio. A late gangster classic set in the speakeasy era, it stars James Cagney as jobless World War I veteran who turns to bootlegging and is carried along the crime wave as it becomes big business for the mob. Humphrey Bogart is his partner who becomes increasingly violent and psychotic in the course of their rise in the criminal ranks, the "bad" gangster with which to contrast Cagney's growing distaste and disillusionment with the gangster life.
I'm quite partial to Raoul Walsh's They Drive By Night (1940), a tough tale of truck drivers at the end of the depression with Bogart playing the hard-luck brother of ambitious George Raft. Raft has the better part—he falls for brassy, sassy truck stop waitress Ann Sheridan while the scheming (and very married) Ida Lupino plots to get closer to Raft by hiring him to run her husband Alan Hale's trucking business—but Bogie is the more interesting screen presence, going from angry and bitter when he loses his arm in car wreck (a great scene) to easy-going and even warm as the fraternal manager in the trucking film. And I'd like to think it inspired Walsh to give Bogart his first major lead in the grim and gritty gangster classic High Sierra (1941). Bogie settles into the role of leathery prohibition era gangster Roy "Mad Dog" Earle with real authority, giving this veteran criminal a sense of lived history knocking about from heist to heist and arrest to release. He steps out of prison and right into another job with a pair of short-fuse punks and finds that the times have passed him by, yet he still holds on to an innate gentleness and generosity. Ida Lupino (who gets top billing) is a hardened survivor who warms to the gravelly professional, but his heart goes out to a young crippled woman (Joan Leslie), a figure of innocence and helplessness that he idealizes into a fantasy escape from his dead end life. There's a sense of romance in the idea of the criminal code of years past swept away by the punks that now infest the landscape, but ultimately the film owes more to the weary resignation and doom of film noir than the rat-a-tat energy of the early Warner gangster thrillers it sprouts from. John Huston co-wrote the script with author W.R. Burnett and apparently he liked what he saw in Bogart because he cast this tough old survivor in his directorial debut.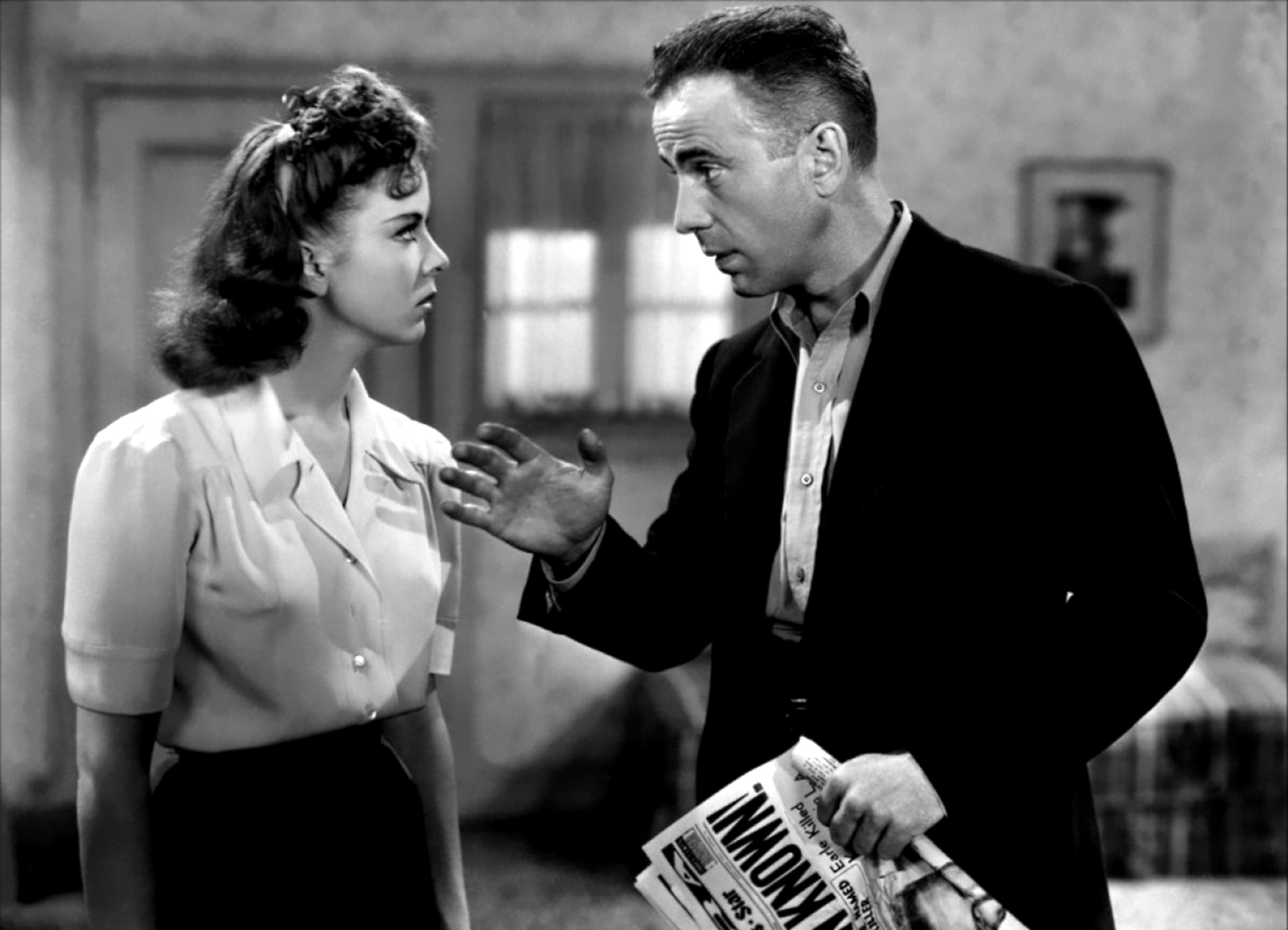 The Maltese Falcon (1941) was the third adaptation of Dashiell Hammett's detective novel classic but the first to capture the hardboiled toughness of the novel and the vivid vipers nest of double-dealing thugs and con artists on the trail of a treasure like junkies chasing the ultimate fix. One-time Hollywood nice girl Mary Astor goes blonde, brazen, and absolutely ruthless as hard-hearted treasure hunter Brigid O'Shaughnessy who lies as easily as most people breathe, Sydney Greenstreet is the garrulous Kasper Gutman, keeper of the Falcon's lore, Peter Lorre is the weaselly Joel Cairo, and Elisha Cook Jr. became a cult figure as the rat-faced gunsel and small-time thug Wilmer Cook. But it's all built on Bogart's incarnation of Sam Spade as the great hardboiled private detective, a mercenary with a code of ethics just slightly less vicious than characters he keeps company with. Like the man says, this film is the stuff dreams are made of, and it is the Bogart that Hollywood embraced and that America still loves: insolent, individualistic, a romantic under his hard-boiled hide. He played this character, in varying degrees, throughout the rest of his career, epitomized in his defining role as the wounded cynic in Casablanca (1942). It was the beginning of a beautiful friendship between Hollywood and Bogart.
The collection fills in the wartime years with a selection of Bogart at war, including the lighthearted Damon Runyon-esque comedy thriller All Through the Night (1942), starring Bogart as a gambler and petty crook who rouses the New York underworld (William Demarest, Jackie Gleason and Phil Silvers play a few of the lovable criminal types) to battle Nazi spies in the Big Apple, and Across the Pacific (1942), which reunites Bogie with his Maltese Falcon co-stars Mary Astor and Sydney Greenstreet for a lightweight of World War II espionage on the Panama Canal. Director John Huston seems to have tossed this one off before reporting for duty himself. More conventional wartime efforts put Bogie in Action in the North Atlantic (1943), where he's a Merchant Marine who matches tactics with U-boats and the Luftwaffe, and Passage to Marseille (1944), where he reunites with Casablanca director Michael Curtiz and co-stars Claude Rains, Peter Lorre and Sydney Greenstreet to play a World War II French patriot who escapes Devil's Island and joins the Free French Air Corps.
The final five in the set are quintessential Bogart films and performances, beginning with his four pairings with on and off-screen paramour Lauren Bacall, To Have and Have Not (1944) and The Big Sleep (1946). They sizzle from their first shared scene, the flinty loner and the sexy tough girl who burns her presence on the screen in her film debut. Legend has it that director Howard Hawks boasted to Ernest Hemingway that he could make a good film from the author's worst book, and proceeded to do so with a romantic script that has less to do with Hemingway than Casablanca (which Warner wanted desperately to replicate). It was the 19-year-old model's film debut and the beginning of one of Hollywood's greatest love affairs. Hawks immediately reteamed the couple (by now married) in The Big Sleep, with Bogie as the screen's smoothest (and most charmingly insolent) Philip Marlowe who meets his match not in a criminal but in the equally seductive spoiled heiress Bacall (the character given a dignity in the film missing from the novel). The rather incomprehensible screen mystery is little more than a setting for a witty script, a charged romance (love the courtship through the sexually loaded metaphors of race horses) and a contemplation of honor in the corrupt world of L.A.'s underworld. (The only significant supplement missing from this box set is the pre-release cut of the film, which makes for an illuminating contrast and illustrates just how a professional like Hawks makes the most of two charismatic stars; if you have the earlier special edition DVD of the film, you'll want to hold on to it just for this alternate version.) Bogart isn't even seen for the first half of the offbeat film noir Dark Passage (1947), adapted from the David Goodis novel and directed by Delmer Daves. Instead we see through his eyes a first person account of an escape from San Quentin and subsequent plastic surgery (with the help of a series of sympathetic strangers, notably Bacall as the impossibly devoted love interest), the first steps on the road to proving his innocent in the murder that sent him to prison.
A pair of Huston-directed films completes the collection: Key Largo (1948), an adaptation of the Maxwell Anderson play with Bogie and Bacall (their final screen pairing) that is electrified by strong performances by all, but especially Edward G. Robinson's flamboyant gangster in exile and Claire Trevor as an alcoholic, over-the-hill showgirl, and The Treasure of the Sierra Madre (1948), Huston's adaptation of B. Traven's novel. Bogart is the down-on-his-luck American who hits the lottery and heads out into the desert with a fellow hard-up American (Tim Holt) and an old sourdough prospector (Walter Huston, the director's father). The rugged, unglamorous look at the ravages of greed earned Oscars for father and son Huston (John for direction and screenplay, Walter for Supporting Actor) but not for Bogie, who to date had only been nominated once, for Casablanca and would wait until 1952 and The African Queen (not in this set) for his Oscar.
The set ends here. Bogart formed his own production company, Santana Pictures (for which he made In A Lonely Place and delivered his greatest screen performance) and left the contract star world behind. And in some ways he left behind the hard-bitten, worldly, individualistic yet honorable persona he had honed in his best movies, most them featured in this set. Are they all "essential? Perhaps not to the casual fan, but they are all marvelous examples of the Warner studio style and an excellent survey of the development of Bogie and his reign as Hollywood's reluctant moralist hero under a cynical hide and hardboiled patter. And they are an amazing bargain.
The films come with most (though in some cases not all) of the supplements featured in their previous DVD release, with 15 full-length commentaries by filmmakers and historians on 11 of the films, 14 original retrospective featurettes, 15 accompanying "Warner Night at the Movies" presentations of archival shorts (cartoons, newsreels, trailers, etc) from the film's release year and other extras (like radio shows) accompanying the presentations. Also includes a bonus disc with the (also previously released) 2010 documentary The Brothers Warner, a studio history directed by Cass Warner Sperling (the granddaughter of Warner Bros. studio founder Harry Warner) with a focus on the brothers themselves and how their personalities and passions shaped the studio. The box set also includes postcard reproductions of posters and studio memos and official communications and a hardcover booklet with stills and (very brief) notes on the films.
Two of the films, The Maltese Falcon and The Treasure of the Sierra Madre, also make their Blu-ray debut, joining Casablanca and The African Queen (a Paramount release) as genuine Bogie essentials on high-definition. Like the DVDs in the set, both of the beautifully remastered discs feature commentary by Bogart biographer Eric Lax and "Warner Night at the Movies" collections of short subjects, cartoons and trailers, but they also feature supplements not in the DVD box set. Falcon includes the documentary "The Maltese Falcon: One Magnificent Bird," three different radio show adaptations of the film (two with the original stars and one with Edward G. Robinson), make-up tests and a 1941 studio blooper reel. Treasure features "Discovering Treasure: The Story of The Treasure of the Sierra Madre," a radio show adaptation with the film's stars and the excellent 1989 documentary John Huston: The Man, the Movies, the Maverick.
The Magician (Criterion)
I'm not a Bergmanite. By that I mean, I respect his work and I admire his films, but I don't respond to his aesthetic and philosophy the way I do with other directors. I appreciate his films more than I really like them. You could say I don't warm to Bergman, a cheap joke with a kernel of truth of truth behind it. But that doesn't mean I'm not open to being impressed by his art or won over by his stories.
I put that out there to frame my review of Bergman's 1958 The Magician, a film he created in the midst of his most fertile and prolific period of filmmaking. The enigmatic tale of a travelling medicine show fronted by a mute mesmerist (Max von Sydow) behind a mask of stage make-up, theatrical costumes and practiced gestures arrived after The Seventh Seal and Wild Strawberries (both 1957) and before The Virgin Spring (1960) and Through a Glass Darkly (1961), the films that made Bergman's international reputation, and is often overlooked in that company. In many ways, this story of magic and reason and performance is Bergman's celebration of the theater as both a confidence game and a beautiful mystery, explored in the form of a ghost story turned human comedy.
The atmospheric imagery of Gunnar Fischer's magnificent B&W cinematography sets the stage for a spooky tale that takes a turn into mind games and earthy comedy presided over by the genuine fake portrayed by von Sydow. His is only one of the performances within a performance. Ingrid Thulin is introduced as a young scholar and protégé of the magician but it's a front, as much a piece of their theatrical presence as it is a way to hide the beautiful young wife of the magician in plain sight in front of the rubes and aristocrats they entertain. Bibi Andersson comes on as a bumpkin of a country maid but turns out to be more worldly and mature than the nervous virgin of a city boy assistant who thinks he's seducing her.
There's a definite shift of loyalties and aspirations among the players by film's end but while our perspective and understanding of the game has changed, the equilibrium remains the same and, for all the cynicism of certain players in this show, Bergman thinks that's just fine. Theater may be a confidence game but the experience is no less affecting for it. Other members of Bergman's stock company fill out the other significant roles, notably Gunnar Björnstrand as a rationalist who challenges the magician and Erland Josephson as a curious town official fascinated by the troupe. There is still a certain theatrical distance between Bergman and his players, but here it seems part of the experience. This is, after all, a show performed for an audience.
Criterion debuts the film on DVD and Blu-ray in an amazing presentation; the Blu-ray is rich and bold and flawless, like a film print fresh from the lab projected directly onto the screen. Both editions feature a new visual essay on the film by Bergman scholar Peter Cowie and two archival interviews: a brief (under four minute) clip with Bergman discussing the film from 1967, and a longer audio-only interview with Bergman conducted (in English) by filmmakers Olivier Assayas and Stig Bjorkman in 1990. The 36-page booklet includes a new essay by Geoff Andrew, a 1990 appreciation by director Assayas and an excerpt from Bergman's autobiography.
Cross-published with seanax.com.
Available at Amazon:
Humphrey Bogart: The Essential Collection

The Maltese Falcon [Blu-ray]

The Treasure of the Sierra Madre [Blu-ray]