Author, critic, film authority and festival programmer Eddie Muller was branded "The Czar of Noir" by James Ellroy for his knowledge of and passion for the subject. Since publishing Dark City: The Lost World of Film Noir and programming a film noir festival in Los Angeles in 1998, Muller has become not simply the most prominent film noir authority in the U.S., he's become an ambassador for film noir as the organizer, programmer and Master of Ceremonies of the Noir City Film Festival in San Francisco (and in the smaller traveling Noir City offshoot) and as the president of the Film Noir Foundation, the non-profit organization that puts on Noir City and uses the proceeds to fund film restoration. The Eighth Annual Noir City (with 24 films in 12 programs over 10 days) unspooled at the Castro in San Francisco in January 2010 and the Seattle incarnation (14 films over 7 days) opened on Friday, February 19. (The Hollywood incarnation at the historic Egyptian Theater, where Muller programmed his first film noir festival, is scheduled for April.) I spoke with Muller by phone between the San Francisco and Seattle series and we talked movies, noir icons, film preservation and the thrill of seeing film noir on the big screen. (My profile and preview of the series is at The Stranger here.)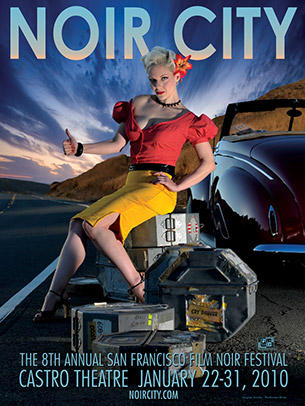 This is the eighth year of Noir City, and the fourth road show edition of Noir City in Seattle. How have you been able to develop it into such a big annual event?
First off, it's the eighth Noir City Festival we've done in San Francisco but I've actually been doing them, oh my God, this will be my eleventh year in L.A. at the American Cinemateque, which is where I actually started doing it. But those early ones at the Egyptian weren't Noir City events, that's a San Francisco thing, there's where it was started. And it really was like the perfect storm, in a way. It's a combination of showing the right kind of films in the perfect venue in San Francisco at the exact right time of year. Beyond that, I guess that somehow it works that people like to have a personality or a face attached to it that they recognize, so that has been helpful, it turns out, that I'm so associated with this festival and that I'm a San Franciscan, that certainly has helped in San Francisco. So that's really it. There's nothing else competing in San Francisco at that time of year, is winter, it makes sense for film noir, the Castro is the perfect place to show these films. People have turned it into a real happening and that's really—besides the restoration work and all kind of stuff—it is fascinating to me that we have show, somehow, that you can draw a thousand people on a weeknight to watch sixty-year-old black-and-white films in a theater. It is pretty remarkable.
There's been a little cult around noir since the seventies. When I discovered it back in college I was picking up every film noir book I could find, Foster Hirsch's The Dark Side of the Screen in particular, and I worked my way through everything I could see through TV and cable and campus film society screenings. You've found a way to focus that cult interest into a big festival.
I'll tell what I see as the main reason why. It's because I think that my approach appeals to both kinds of filmgoers. The serious filmgoers because I've written books on the subject and I have credibility as a, quote unquote, scholar, if you will, when it comes to the subject. Because I will delve in there and find the really, really rare films and I know about Robert Siodmak's original films in Germany and stuff like that so I really do go deeply into it. But my goal is to really make it accessible to the average filmgoer and I really think that's the difference. Because I still really enjoy these films as movies, they're really great. I wish the average Hollywood film could learn from these films how to tell a story efficiently. I just really enjoy them as movies and I always put that first when presenting them in a festival atmosphere, that this is fun, these movies are really good, you don't have to be a film expert to show up here and enjoy yourself, and in San Francisco that's really why the crowds are so big. There are families coming with their kids, older folks bringing their kids, it's a family moviegoing experience. (laughs) And then I see the hardcore taking their notes and scribbling away, who are like, "Thank you for showing Deported," because it's a Siodmak film you'd never see otherwise. So we manage to play to both those audiences.
How did the traveling noir series develop?
It developed in Seattle because of Anita Monga, who was hired by SIFF to actually program for SIFF Cinema. When they got their own theater, Anita immediately said, "Let's see if we can do Noir City in Seattle." So that was a no-brainer, that was obvious because we shared a programmer. As for Chicago and Washington D.C., there aren't that many venues where this can work any longer because, if you want to show the rare stuff, you have to have a projection booth that's certified by the Association of Movie Image Archivists. The booth has to be certified for showing archival films and there just aren't that many of those venues left in the United States anymore. The Music Box in Chicago has old reel-to-reel changeover system and the AFI Cinema in Silver Spring, Maryland, is quite frankly the best projection booth I've ever seen in my life, they can show everything there. So those fit the criterion for who we can actually partner with. There are a lot more cities who would like to do one of these festivals too but they don't really have a venue in which we can do it and, honestly, I'm not really that interested in going out there and doing a roadshow with the mainstream noir films that you can put on a platter and project: Double Indemnity and Out of the Past and Kiss Me Deadly and Touch of Evil. I'm not going to do that.
But we have to be careful because what we've discovered is that the Noir City festival in San Francisco has proven to be a destination event. We had people come from Norway, Germany, Denmark, England, Portugal, Switzerland, it was amazing how far people will travel, and the exchange rate right now is definitely helping them, but that's pretty exciting. And if we end up having a festival all over the place, then it might end up hurting San Francisco. So right now we're pretty happy with the way it's set up. The one that was astounding was being invited to do a series in Lyon at the Lyon Film Festival. That was absolutely astounding. Do you know Thierry Frémaux, who is now the co-director of the Cannes Film Festival? He is the genius film festival director of all time and he's from Lyon. He's worked with the Institute Lumière there and Bertrand Tavernier is the director of the institute and these two guys decided they wanted to do a festival in our hometown that's just about cinema, that's not a competition, that's not a marketplace for new films. They just show retrospectives and they're so wired in that, this last October at the festival, Clint Eastwood was the guest of honor as a director, and Eastwood came and they had 6,000 people at this ceremony honoring Clint Eastwood, absolutely amazing, And I was just thrilled that they invited me to come and show a series of rare noir films in France, which is no small thing because, man, the French know their stuff.
They named the genre.
They named it and they do think they know everything about it, so it was quite a challenge for the yank to come in and say, "Well, I think I got a couple of things you may not be familiar with." And they're like, "Oh, yeah, right," you know, "Sure." (laughs) But everyone is happy.
I've met Tavernier and it was a real pleasure.
He is a genuine movie enthusiast. I've had dinner with him and he will just sit there and talk about, I kid you not, he must have talked for 35 minutes at dinner one night about the genius of Stuart Heisler's match cutting. (laughs) He's like (in a French accent) "Heisler, of all the Hollywood directors, he is the finest on the match cutting on action. He's incredible!" My first meeting him was priceless. I was in France at book festival and my editor in France knew Bertrand and we were walking through this conference center and Tavernier walked by. In France, no one's impressed by celebrity, it's just routine. Here, if Quentin Tarantino walks by, he's mobbed. But in France, it's just like, "There goes our number one film director." "Oh, that's nice he's here." And I said, "Wow, that was Bertrand Tavernier," and Patrice said, "Oh, you want to meet him?" and I said, "Yeah, sure." So he follows him downstairs and says, "Bertrand! Bertrand!," and he turns around. "I wanted to introduce you to Eddie Muller," and Tavernier looks at me and says, "In your book, Dark City, you write about Pitfall and you did not give Bill Bowers credit for the screenplay." (laughs) That was amazing. That was the first thing he said to me. So, there you go.
So what is that fascination with noir all about? What make it so much fun, so intriguing and kind of illicit?
Well you obviously know because you used all the words that I would probably use to describe it, because it is all those things. It is intriguing, it's obviously stylish. Again, you don't have to be an expert to understand you're looking at something very unique and special, when you see a great example of the style. When you're looking at Out of the Past, something that is so brilliantly conceived and visualized, everybody gets it. They may not know the details about the cameraman and all this kind of stuff but everybody gets it. And they're fun. This is really the thing that I think is key. Although noir has this reputation, deservedly so, for being like the movement in Hollywood filmmaking in which Hollywood really grew up, because the themes were very adult, they were basically saying, Screw this happily even after stuff, that's not the way life actually works. We're going to tell stories that are much more real about base human emotions and we're going to do it in a very stylish way. That's absolutely fantastic. That does not mean that the films can't be tremendous fun. They're exhilarating. What would you rather watch, Gun Crazy or Natural Born Killers? It's basically speaking about the same thing, but nothing about Natural Born Killers is actually fun. You can watch it and say it's interesting, but Gun Crazy, even though it's a great tragedy and the film works on that level, it's also exhilarating and that's what I think a lot of people get out of these films, that they really enjoy them. I don't know that it's a lot more complicated than that. Yohe u can enjoy them without feeling like you're wallowing in nostalgia because the films really are serious and they have a real bite to them. There's a moment in, and I don't want to spoil it for you because I know you're really looking forward to seeing it, but there's a moment in Slattery's Hurricane, a scene between Richard Widmark and Veronica Lake that is so painful and so mean-spirited that I heard people in the audience gasping. The film was made in 1949, you'd think these movies can't really cut to the bone, but this managed to do it. To me, that's absolutely fantastic.
In the San Francisco incarnation of Noir City, you have a San Francisco night with films set and shot in San Francisco, which is a good noir town. Are there are any Seattle-set noirs?
From the classic era, not really. Johnny Stool Pigeon takes place partially in Seattle, Cry Vengeance with Mark Stevens passes through Seattle, and of course the number one film is Trouble in Mind, the Alan Rudolph film which is set entirely in Seattle. I'm trying to think of there was one of those 1950s "Expose" films. No, that was Portland Expose. I think that my be about it. I can't remember any that are set fully in Seattle, which is too bad.
So I guess there isn't a Seattle night in the future of Noir City.
I'd do it if I could find something. But it's funny. The way that works is, if it has a lot of footage from the mid-twentieth century, it works even if the film isn't great. Like in Chicago we showed Chicago Syndicate, which is not a great film but, man, it has a lot of footage shot in Chicago and people absolutely love that. They just want to see what the city looked like in 1955. And if enough of it is shot there, like Walk a Crooked Mile, which we're showing in Seattle, the first half of that film is shot in San Francisco in 1947 and it's remarkable. There are passages in there where the audience's jaws are dropping. There's a scene actually shot on the Bay Bridge, on a bus, coming from the East Bay into San Francisco. I've never seen that in a movie ever, where it's on location, they're actually shooting on a bus in 1947 as it crosses the Bay Bridge, and it was really an amazing visual thing.
What is your personal highlight of the Seattle festival?
I'm not going to be able to do this as a producer because I don't have a schedule in front of me or any of that stuff. Normally I would promote the ones on the off-days. (laughs) The highlight for me is the restoration of Cry Danger, obviously. We funded it. I very much like bringing Slattery's Hurricane back into circulation because I think it's a flawed but very interesting movie. I like the real obscure B films that we're showing, Inside Job and especially Fly-by-Night I think are great. And I'm very fond of the Garfield He Ran All the Way. I saw the print in San Francisco and it is absolutely eye-popping, with James Wong Howe cinematography, it is so good. And it is very interesting to see that double bill because The Postman Always Rings Twice is probably the most tradition noir film that Hollywood ever made in terms of filmmaking style. Its very staid, in a way, and the interest in Postman comes from this really passionate story with these very hot stars but it's directed in a very reserved, dispassionate way. You see that and then you see He Ran All the Way and it's only five years later, but the change in filmmaking style and John Berry just directs the hell out of that movie. It's quite amazing to see the two films on a double bill.
You specifically make every presentation a double feature. What's your philosophy for pairing up films for a double feature.
I don't really have a hard and fast thing. If there's a connection between the films, like Slattery's Hurricane and Pickup on South Street, sometimes it's that obvious. Other times it could be that I really want to highlight a director or a theme or sometimes I do it just because I want to see the film names on the movie marquee. (laughs) Hence the double bill at Noir City of Escape in the Fog and A Place in the Sun. I just wanted to see the two titles on the bill together. It's silly, I know, my all time favorite I've done as a double-bill is I Wake Up Screaming and In a Lonely Place on a marquee, I did that just so I could take a picture of that on marquee. (laughs) But with Escape in the Fog and A Place in the Sun, beyond just the humor of linking them, was specifically to show people what a double bill was like back then. There was a genuine B film, like a 63-minute trifle, with a serious A film like A Place in the Sun. It doesn't get more serious or more A than A Place in the Sun, right? And that's how films were booked and shown back then, so that's also what I do with double bills. I will book a short B film with a much more substantial A picture, to show people that that's what it was really all about, that B films had nothing to do with the content, it just had to do with that they were made for that part of the double bill. It had to be short and kind of breezy to kick off or end a night at the movies.
One of my biggest frustrations is the way even film savvy folks use the term B movie to describe any low budget genre picture, even if it was 80 or 90 minutes long and had real stars in it. That's no B movie.
No, no, that is a total misnomer. So many people think that all film noir movies are B movies. What? Double Indemnity is no B film. Anything with Billy Wilder's name on it is no B film.
There's a part of me that's sorry that Escape in the Fog didn't make it up to Seattle but I have seen it a few times.
It's not that good, really.
But it has some great mood.
Yes, it has some very stuff in it but the audience was very mixed in San Francisco. But at 63 minutes, they were also very patient and generous. But wait until you see Fly-by-Night. Fly-by-Night is as good as a B film gets, absolutely fantastic. You can just see how, when they finished that and it was released, Siodmak's career was made. He could do anything after that. Because he took nothing, there was no budget, and he also had John Seitz photographing it, which was amazing, but it's really, really enjoyable and the direction is top notch.
When I was watching Night Editor on the "Bad Girls of Film Noir" DVD set, you could tell that it was a B film, running under 65 minutes, but it was supposed to kick off a whole series and you see that they gave it a little more attention. It was one of those Bs that actually stood out as something more. VCI, a second-tier DVD company with a lot of obscure titles from the past, has put out a series of genuine B movies and it's a real service because you can see that most of them were in fact pretty terrible. They spotlight some of the better ones and they favor B crime films, but they really show what the real B cinema was like, and in a way show why discovering a great B movie is so much fun because the odds are against it, there are so few of them.
Exactly. And the difference can be a witty, well-crafted script, or the genuine difference is a director who can be really creative and innovative within the confines of no budget, and that's where you see someone like Siodmak step out of the B trenches and it's extraordinary what he can accomplish on the same budget you'd give William Beaudine and it would be a static camera, everything in a master shot, people walking into a room and talking. Siodmak gets a real movie out of it and it is exciting when you see that.
You were talking about film noir and adult filmmaking and, to me, Pitfall is one of those great, genuinely adult films because you take a classic theme, the married man who gets involved with another woman, and they don't cop out in the way they confront adultery in a middle class marriage.
Well that's Andre De Toth. I think Andre is the most underappreciated director of that era because he just refused to make films in the standard way, either in what he accepted in the screenplay or how he put it up on the screen. And you see the same thing in Slattery's Hurricane, where there's also an adultery theme that is dealt with so bluntly. He was a genius as finding some way to work within the confines of the production code and, boy, Slattery's Hurricane tests it at every turn. It's absolutely fascinating. I love the way De Toth makes movies.
It's funny that even to most film fans he's most famous for his 3D House of Wax. I discovered him through his westerns.
Oh my God, Day of the Outlaw, holy cow!
I was trying remember that film last night in a conversation because the title, Day of the Outlaw, does nothing to evoke the film's atmosphere of the high desert in winter and an isolated town in the snow, but it is one of the great unknown westerns and it's a noir western, except that it's all white instead of black because of the blanket of snow, like a noir on reversal stock.
It doesn't look or feel like any other film of that era. It's is pretty remarkable. And that's what I love about Andre. He treated every assignment like, I'm going to make a movie like nobody has seen before. You've seen None Shall Escape, haven't you?
No, I haven't.
Oh my God, that movie is extraordinary. That's his movie that actually predicts the Nuremberg Trials. He made that film while the film was still going on and it's a film about bringing the Nazis to justice. The film was shot in 1943 and there's a scene in that movie of Nazis machine-gunning Jews at a train stop that is jaw-dropping. It is unbelievable. And Marsha Hunt is great in it. If you ever have the opportunity to find that film, you should watch it.
Robert Siodmak is a major, major noir figure and you have two of his American crime films that no one has seen before. How did that happen?
It happened because Fly-by-Night I had heard about but I really didn't think much of it because it didn't seem, by its description, to be remotely noir. Then my friend Philippe Garnier told me that he had seen it in a VHS tape that a friend of his had given him in France and he said, You know, the tape was really not very good but I really think this film is kind of special. So I discovered there was a nitrate print of it at UCLA and they were kind enough to make a digital version of the nitrate print just so we could watch it. And so Philippe and I watched this one day in the screening room at UCLA and it just knocked us out. It was like, My GOD this is good. And lo and behold, I went back to my contacts at Universal and said, Do you guys actually have a print of this? And they did. Nobody had asked for it in 65 years or something. It was Richard Carlson and Nancy Kelly and it's very short. They're not going to put that on VHS or something. They can't believe it: Eddie, what's going on? (laughs) No rental requests for 65 years and now you're showing it every month! (laughs) And I will continue to show that film every chance I get. That's what I took with me to Lyon and showed in France, and they went absolutely crazy for it. It's very funny, it's Siodmak's B-movie version of The 39 Steps, that's basically what it is, and it's very charming and beautifully done. And Deported, same thing. Once I was asking for Fly-by-Night then I said to the guys at Universal, Anyone every ask for Deported? Well, we don't really have it but we do have the negative, we can make you one. And lo and behold, there it is.
Because of the interest you have generated in so many otherwise forgotten movies, has that interest encouraged people in the home video departments of the studios to say, Hey, maybe we can do something with this and bring some of these films back out?
I think absolutely. I mean, they don't ever want to give credit to anybody, but when Warner Bros. released Decoy on that DVD with Crimwave, I mean nobody knew anything about Decoy until we resurrected it at the Film Noir festivals in L.A. And I distinctly remember that night showing the film. It was like a revelation. The buzz in the audience was like, How have we never heard of this film before? We immediately booked it again and showed it again and on the packaging, Warner Bros. said, Rediscovered at film noir festivals blah blah blah blah blah, this long lost classic… I would hesitate to call it a classic but it is very unique. So yeah, that has definitely happened. I'm not taking credit for that, but certainly this whole process has led to the rediscovery of a lot of films, like The Sniper and Murder By Contract, that are in that Columbia DVD set that came out last year…
As far as I'm concerned, that was the number DVD release of the year last year.
There you go. And I was really involved in that set from the beginning except that my involvement got very much downplayed when the marketing guys decided to have Scorsese brand it as a Film Foundation. But I was involved with those guys from the beginning, helping them pick the titles that would be in it and all that stuff.
In this series we have Raymond Burr and William Conrad, we've got Richard Widmark and Dan Duryea, who is my favorite noir weasel of all time and also makes for a very interesting good guy in those rare roles. But the noir icon who is the most unlikely of noir icons and yet still one of my favorites, you have two films with Dick Powell. How did this former light romantic lead and musical comedy star become such an effective, deadpan, everyman noir hero?
That's a really good question. I don't think it was an easy transition for him. I don't dislike him in Murder My Sweet but he's not there yet, he's a little too keyed up as Philip Marlowe. But by the time he's making Cry Danger, he has perfected it, because his performance in Cry Danger is as good a laconic, wise-cracking, tough guy performance as anybody has given in film noir. And it took him a few years to get there. I think Dick Powell is a really interesting character because, to me, he's a little bit like Joan Crawford in that they understood their image completely and then they got into production. Dick Powell has become a very important figure in relation to the work of the Film Noir Foundation because he produced so many films himself. He wanted to be independent, he wanted to cut the studio out of the equation because he was tired of the studios overlooking him for parts that he wanted to play, like Double Indemnity, for example. He finally said, "Well, the hell with them, if they're not going to give me the parts, I'm going to produce the films myself and star in them." And so Pitfall and Cry Danger and Split Second, which he directed, he wasn't in it, and there are several other films escaping me at the moment, right in that period, which he produced.
Is To The Ends of the Earth one of his?
Yes, exactly. And it's fascinating because Cry Danger is the only film ever produced by Olympic Pictures, which is two guys in the Midwest that Dick Powell talked out of their money. "You wanna be in the movie business? Here, I got a great thing." And he loved the work Bill Bowers had done on the screenplay of Pitfall and just hired Bowers to write an original screenplay, saying "This is my character," and described to a T that very laid back, wisecracking Dick Powell character, and said, "Write a movie about that guy, set it in L.A., we don't have a lot of money, keep the locations to a minimum but make it fresh and interesting." And I'll be damned, Bowers did that and Powell, who didn't have money for a big director, gave Robert Parrish his first job as a director. That film is just spot on in every way. It is so clean and efficient and funny, it's just great, and it's my favorite Dick Powell movie. It's a good question. More information needs to come out about Powell as a producer in that era because he was an important figure.
He's such an unlikely guy to be a hardboiled hero, and yet he pulls it off without ever looking he's trying.
It's pretty remarkable. And there were other guys who made that same transition. John Payne was pretty lightweight song and dance man, and my personal favorite is Dennis O'Keefe, who I actually think is as good at doing hardboiled dialogue as any actor ever.
In Raw Deal he makes that guy completely terrifying.
Yeah. And this is what is so great about Dennis O'Keefe. He goes from being the best wisecracking pal to being a really, really scary noir guy effortlessly. He's just great at it. You'll see in Walk a Crooked Mile. It's kind of a lame role but, man, O'Keefe is just so great on screen, his patter and his ease on screen is so incredible that you can't take your eyes off him.
I discovered O'Keefe in a film noir series I did in the mid-eighties in college, an entire term of Sunday night double features. I was programming things that I could not see on video back in the mid 1980s, so I got all the Anthony Mann noirs out of the Kit Parker catalogue and saw Raw Deal and it knocked my socks off. It was tough and spooky and hard-edged and visually stunning and it was made on nothing.
It's all style and guile.
What is the origins of the Film Noir Foundation and how did get involved in film restoration?
In reality, the Foundation was created less out of altruism than out of practicality. Because there were films in archives around the world that I really wanted to show and I could only access them if I was also a non-profit foundation. They weren't go to give these to me if I was a commercial entity. I really wanted to show Losey's M and I couldn't get it from the BFI if I was not actually set up to be a non-profit. But then, once I went through all that, it became obvious to me that there were films that I was trying to find that are deteriorating. Films live a life, just like a person does. They get old, they get decrepit, they fall apart, just like a person does, and they die. And I couldn't believe that this was going to happen to some of these really, really great movies. And so what be came obvious is that the films that were in the greatest danger were ones that were independently produced back then and they did not have the might of a big movie studio protecting them. The studio may have distributed the film, but if they did not have the rights to the movie or the distribution deal had expired, then they had no reason to care for it and that's really problematic. In many cases, they may have the film but they may not keep it in their database. That happened with a film called Woman on the Run, where Universal had distributed it but they did not own the rights to the picture and they did not produce the picture and the only thing I could figure was that they may have it and we had to go elsewhere to find paperwork from the original production company and in that paperwork it said, according to the distribution agreement, one archival copy of the film would be kept at Universal. We had to copy that and show it to Universal and say, "See? You guys have this." And it was not in their database because there was no way they could make money from it. So somebody had to actually go and look for it, and getting somebody from a major studio to look for a film from 1950 that you want to show once, good luck. But they did and that's how we unearthed Woman on the Run.
But this isn't the case with a lot of these films. Cry Danger, that we just restored, has a huge production and distribution history, which I've actually written an essay about and I won't go into all those details now. But this is basically the issue. The Prowler was an independent film, Cry Danger and independently produced film, Too Late For Tears an independent film, Guilty Bystander and independent film, The Chase an independent film. These are the film that are really in danger of disappearing and I realize, working with UCLA, that they are a magnet for film. The Film Noir Foundation is a relatively new thing. I'm not going to get the kind of reaction, going scattershot around the world looking for these lost films. By partnering with UCLA, they just get stuff automatically. If a film exchange goes out of business, it's like, "What are we going to do? Destroy all this or should we ship it to UCLA?" And that's how a lot of stuff pops up. That's how The Prowler was discovered, we're now working on Too Late For Tears. Things just appear at UCLA. There's an old B picture called For You I Die that just showed up one day at UCLA. I was in a meeting there for something else entirely and somebody walks in and say, "Is For You I Die a film noir? Because it just showed up." (laughs) Which is great. I just want to make sure these films continue to exist and so, as far as I know, we are the only film festival in the world that actually does this. We show the films, people come, they pay their money, and all the proceeds, and I mean all of the proceeds as in there is no paid staff at the Film Noir Foundation, including me, all the proceeds go to film restoration.
In the age of home video and digital projection, why is a film print so important?
It's important for two reasons. Number one, I still believe in the value of the communal moviegoing experience. So as far as putting these festivals on goes, I want people to see the films as they were originally intended to be seen. Two, you're never going to get this film digitized if you don't first get it restored as a film. That's just all there is to it. We're working on the next stage, which is going digital, so they will be more accessible to the world at large and not just to people who can come to the festivals. That's obviously a direction we need to go. But the reaction that this has gotten in San Francisco, it really does feel like it's The Last Picture Show. It's incredible. On a Thursday night, when we showed Red Light and Walk a Crooked Mile, we had 1400 people in the Castro Theater. It's astounding and it's great because we're showing double features of old films, we're charging ten bucks, we filled that theater and the vibe was just extraordinary, how much people enjoyed themselves. And I will always prefer that to sitting at home and watching it on a DVD.
For further information:
Eddie Muller's Website
The Film Noir Foundation
Noir City
Noir City Seattle
Screw This Happily Ever After Stuff: Rarities and Rediscoveries at Noir City