The only links page that matters… except for all the others.
Seattle screenings and cinema events are surveyed at Parallax View here.
"She knows the score…She's someone who was abused. I could identify with her. I never could identify with any other white movie star. They were always white people doing white things." Jacqueline Rose, in a beautifully written article that sniffs out more connections than most books on the subject, finds Marilyn Monroe the perfect embodiment of mid-century America—not the one we dreamt on movie screens, but the sometime cruel, confused one most pretended wasn't happening.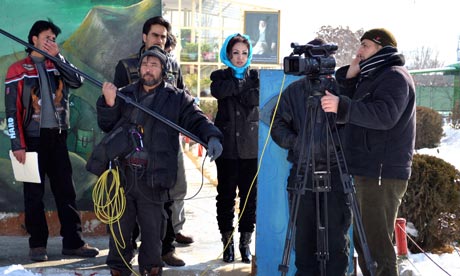 Onscreen, Saba Sahar is "a kind of superhero, doing kung fu high-kicks in traditional dress, carrying victims to safety over her shoulder or riding a motorbike with no hands while firing a gun." Behind the scenes, Afghanistan's first woman director is far more impressive, as Jenny Kleeman's profile attests.
"I always presume every movie I make is my last. My career is very smoothly in decline, each movie making half as much as the prior one." Todd Solondz, interviewed at the Sarasota Film Festival by David Carr, on the business end of things, working with actors, and how he stole a key scene in Welcome to the Dollhouse from North by Northwest. Link via Movie City News.
"Defended by the left-wing press as well as the Surrealists, L'Âge d'or became a cause célèbre, but Buñuel was not there to soak up the attention: he was in Hollywood." Reviewing Román Gubern and Paul Hammond's Buñuel biography The Red Years, J. Hoberman tracks the contradictions of the director's peripatetic pre-war decade. Noted by Mubi.