The only links page that matters… except for all the others.
Seattle screenings and cinema events are surveyed at Parallax View here.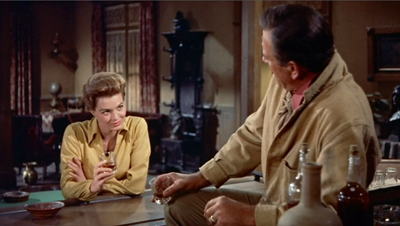 "She Who Is Called Feathers manifests the most dazzling changes in raiment." David Bordwell and Kristin Thompson's mock exegesis on Rio Bravo isn't just a delightfully sustained gag, but a vessel for several profound interpretations of the film, including a deconstruction of some song lyrics that is, keeping with their conceit, revelatory.
A father's haunting anecdote about the moral confusions of living in a nation under occupation kicks off what is shaping up to be a lovely project from Vermillion and One Night's Murderous Ink: a survey of Japanese films from 1949 that the writer digs his way into by scratching at items ostensibly in the margins. Thoughts on the superstitions around Crepe Myrtle and the rareness of tomatoes expand a grief-ridden scene from Kurosawa's Stray Dog; and Ozu's Late Spring and Tadashi Imai's Green Mountains become two more stops in Japan's ongoing anxieties over women riding bicycles.
Your latest round-up on the hazards and economic hardships of switching to digital projection comes via the L.A. Weekly.
The article above opens with a discussion of Christopher Nolan's recent screening for fellow filmmakers of a sequence from The Dark Knight Rises, in an attempt to proselytize for the benefits of 35mm over video. Nolan discusses the subject, as well as his directing style (which, surprise, is highly pragmatic and orderly) with the DGA's Jeffrey Ressner. Link via Movie City News.