Taxi Driver (Sony)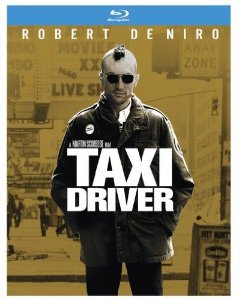 Martin Scorsese' incendiary masterpiece of alienation and anger and urban anxiety may be the most maverick vision in all of seventies American cinema. It is certainly one of the most courageous and passionate portraits of the American underbelly ever put on film, a movie bathed in blood as much as in light, and revisiting the film on its Blu-ray debut, mastered from the brand new digital restoration currently making the rounds on the festival and repertory cinema circuit, only confirms the power of the film to, after all these years, sink the audience into the mind and filthy, fetid world of Travis Bickle.
Directed by the ambitious young Scorsese, who confesses that he was driven to make this silent scream turned psychotic explosion of a script by Paul Schrader, and starring Robert DeNiro as Travis Bickle, it is a primal portrait and uncompromising vision carved out of the New York night, the summer heat and the garbage of the Times Square cesspool. Bickle, a character inspired by would-be assassin Arthur Bremer and Jean-Paul Sartre's novel "La Naussee" as well as Schrader's own spiral into self-obsessed urban loneliness, is no hero. The restless, insomniac Vietnam veteran who takes a job driving a taxi on the night shift and muses over the urban cesspool that he wanders through in his nocturnal prowlings in a hateful gutter poetry has convinced himself that he's "God's lonely man," the self-appointed avenging angel out to clean up the garbage on the streets.
DeNiro reads his journal entries in a near monotone voice-over, a matter-of-fact racism and homophobia and contempt for wide swathes of the human race creeping into his unexamined musings. His unacknowledged racism and intolerance (seen in his reflexive expression of contempt every time he catches sight of an African American on the street) becomes his excuse to unleash his anger in a violent spree under the guise of heroism and vigilante justice. And film's final, sour irony is that the world believes his delusions of chivalry as much as he does.