In his counterpart article to David Denby's lamenting the death of movies (posted last week), David Thomson rejoins no, not at all. They're only dying, and have been for decades now.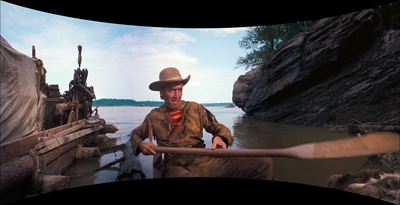 "And in the way Americans have of acting out their dreams, it came to be." David Bordwell looks back at Cinerama, with an interesting discussion of the limitations three distorting screens forced upon filmmakers and how John Ford managed to effortlessly transcend them.
"I admire your courage, miss, er?" "Trench. Sylvia Trench. I admire your luck, Mr…?" "Bond. James Bond." With the 007 movies now 50 years old, Vanity Fair's David Kamp recounts the long route Ian Fleming's novels took to get to that iconic introduction.
"It's almost as if he has discovered a new part of himself: every good character has an evil double lurking out there, and vice-versa. After years of being corseted as Warner Brothers good lounge lizard…and unthreatening refugee roles, he can finally kick up his heels." Mark Rappaport, finding more examples of evil twins and duplicitous doppelgangers in his career than you'd think, praises the postwar wildness of Paul Henreid.
An intriguing subject for further research is provided by Pussy Goes Grrr's Andreas, who makes brief but compelling note of stylistic similarities between Ozu and Edward Hopper. Link via Girish Shambu.
Reviewing Brian Kellow's Kael autobiography and the Library of America's collection of her works, Jana Prikyl sticks up for her favorite film critic, and reclaims the feminist origins of Kael's famous tussles with