Blu-ray: 'Wild Strawberries'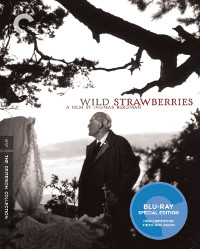 Ingmar Bergman's Wild Strawberries (1957) followed his sunny, airy sex comedy Smiles of a Summer Night (1955), the first Bergman film to catch the international spotlight, and the dark medieval allegory The Seventh Seal (1957), where a knight's faith is shaken by the death and cruelty of the crusades and the doom of the Black Plague sweeping through his home. Set in the present but tied to a past viewed through the lens of remembrance and dream, Wild Strawberries is more melancholy and introspective than Smiles and more hopeful and self-reflective than the enigmatic Seal. It is also more autobiographical, with details of aging protagonist Isak Borg's past drawn from Bergman's own childhood. To what extent Isak or his emotionally closed in son Evald Borg (note the initials EB) represent Bergman himself is open to question (he claimed Evald was based on his father), but such concerns are secondary to the film itself, an often painful drama but one of Bergman's warmest and most touching films.
Victor Sjöström, an actor and the great Swedish director of the silent era (and one of Bergman's heroes), plays Isak Borg, a widowed doctor living a quiet retirement in a lovely country home. He was coaxed out of retirement to play the fragile old man being presented with an honorary doctorate in the college town of Lund, and Bergman pays tribute to the director in the opening sequences of the film. Isak has a nightmare where he wanders through a sun-seared yet ghostly village, and the silent movie-like sequence recalls Sjöström's 1921 masterpiece The Phantom Carriage, with its driverless hearse carrying the corpse of Isak himself through the streets. It's unlikely that audiences of the time would make the connection, which makes the moment even more touching: a personal gesture from one artist acknowledging his debt to another.
Write a comment